With a large customer base, increasing penetration of Internet connectivity and growing popularity of online shopping, Best Foods, one of the leading rice brands in the country, has recently launched its own E-portal BuybestRice.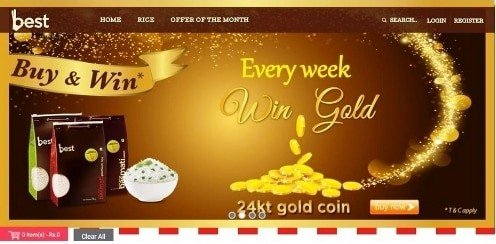 Now, your Best basmati rice pack which has been recommended by expert chefs of the Indian Culinary Forum on a host of parameters such as excellent quality, length of grain, delightful aroma and unmatched packaging, is just a click away. The portal offers different varieties of rice with attractive discounts, inaugural offers and combos on white rice and brown rice.
According to a research report by Ken Research, the Indian online groceries market is envisaged to grow and reach Rs 2.7 billion by FY' 2019. The need of the hour, therefore is a robust technology platform for brands to reach out to their customers directly across online and offline channels. With the growing E-commerce market, increasing consumer awareness, rising disposable income and advent of various technological advancements over the last few years, it is quite essential for brands to step in, offering comfort and convenience to the consumers.
Speaking about the launch, Dr. Aayushman Gupta, CEO, Best Foods Ltd. said, "We are living in the digital age and online presence has become inevitable. Online grocery market has started registering a healthy growth rate on account of growing urbanization, changing lifestyle of the consumers and tech-savvy young generation who prefer to buy products online. Our E-portal is a step to enable consumers to buy our products online."
The microsite http://www.ilovebestrice.com is focussed on being a destination for consumers to know about rice and establish thought leadership for Best Rice at just a click. It is the one-stop shop for someone who needs to know a consumers perspective be it recipes, uses, expert opinions, the site is equipped with all information. The site also has relevant social media handles and after the consumer connects, it also attempts to drive purchases through the E-portal.
Best Foods Ltd. Launches its E-portal