Magic Bus, Bharti Foundation join hands to work for slum children
Bharti Foundation, the philanthropic arm of Bharti Enterprises, has signed a Memorandum of Understanding (MoU) with Magic Bus, India's leading childhood to livelihood NGO, to help shape the future of 1700 children (8-14 year olds) from some of the poorest areas of Mumbai and Delhi. The three-year program was launched in Mumbai.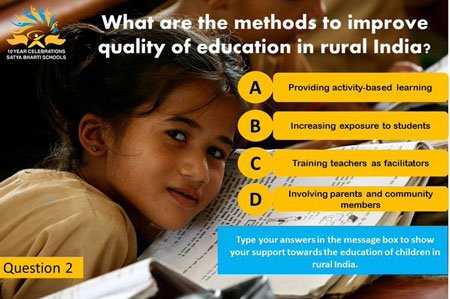 The program will work towards facilitating holistic development of the children, ensuring that they attend school, learn well, and attain basic life skills. The aim of the joint initiative is to empower them to secure a livelihood of their choice and succeed in it, giving them a fair chance of moving out of poverty by the time they turn 18 years of age. Bharti Airtel, India's largest telecom operator will provide financial assistance to this initiative.
Speaking about the partnership, Vijay Chadda, CEO, Bharti Foundation said, "The Foundation has maintained a steady focus on ensuring holistic development of students through its various education programs in both owned schools as well as through initiatives with Government schools across rural India. This partnership not only showcases our commitment towards holistic development but also marks an important milestone in the on-going celebrations of 10 successful years of our flagship initiative the Satya Bharti School Program."
As part of the MoU, Bharti Foundation will monitor the program and support 1700 poor children from Rafiq Nagar and Bhalaswa slums in Mumbai and Delhi respectively. The key driver of thisinitiative are the 68 young volunteers, who are also from the same area as the children. The on-site volunteering approach helps build deeper community connect and enable the program to be run more efficiently.
Speaking on the occasion, Ashok Ganapathy, CEO (Mumbai, Maharashtra and Goa) Bharti Airtel, said,"We are excited to partner with Magic Bus and Bharti Foundation. Airtel remains committed to creating long-term and sustainable value for its stakeholders across all sections of the society. Quality education and social inclusion are an integral of our CSR plan."
About the project locations: Rafiq Nagar near Govandi (Mumbai) is a slum community of 80,000 people who live in close proximity to India's largest dumping grounds, with the lowest denominators of socio-economic condition. Bhalaswa in North Delhi is a typical Delhi JJ Colony where poor water and sanitation facilities adversely affect both the health and education of the children in the area.
Describing the partnership, Matthew Spacie, Magic Bus' Founder, said, "Supporters like Bharti Foundation are instrumental in enabling our work with young people to move them out of poverty and into sustainable livelihoods. 17 years of working with children living in poverty has taught us that we need a sustainable solution to India's education and employability challenge and we are immensely grateful to Bharti Foundation for partnering us in working on this solution."
Source: IIFL