Bangalore, Karnataka, India:- BHIVE Workspace, one of the well-known brands in Bangalore's startup ecosystem, has raised about $1 million in funding led by Blume Ventures. BHIVE Workspace is the largest co-working space in Bangalore catering to over 150+ ventures. It is a world-class workspace provider, growing at a blistering pace and offering the most productive and vibrant workspace for all. From corporates to small businesses to freelancers, it offers a range of facilities that enable individuals and businesses to focus on their work and still have a community driven, vibrant work environment. BHIVE Workspace currently operates in 4 locations covering 50,000 sq. ft with over 800 active members. Its flagship center is currently running at 100% occupancy rates with many companies on waiting lists. It is a very transparent, professionally managed company that partners with landlords and ensures them a steady and predictable income.
BHIVE Workspace, launched in November 2014, believes in giving a complete experience to its members. Hence, it provides a fully equipped workspace with 24×7 access, round the clock security, best in class Wi-Fi experience, UPS and generator backup, open office environment, laser printer, scanner, unlimited coffee and tea, games room, events area, terrace garden, video conferencing, conference rooms, discussion rooms, phone booths, cafeteria and lounge facilities.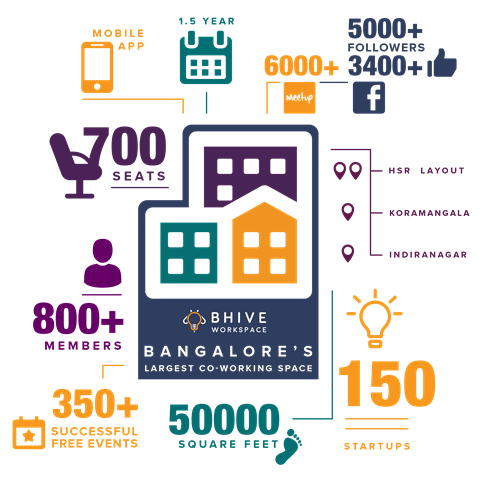 What makes BHIVE stand out is its ability to cater to a diverse audience and at the same time provide the best customer experience and flexibility to drive maximum productivity for all. They achieve this by building their own technology and customized processes. Moreover, BHIVE has been able to foster a vibrant community of business minds and individuals that actively participate in their events and community engagement initiatives.
BHIVE Workspace has a very strong management team, which comes with years of industry experience. Shesh Paplikar, CEO and Co-founder is an NITK alumnus and ex-Bloomberg. Ravindra M.K, Co-founder is ex-SAP and heads Sales and Marketing. Monnappa Bayavanda, COO is an alumnus of NITK and IIMA and ex-Amazon and ex-i2. BHIVE is also guided by a strong group of mentors including V. Sridhar, Raghunandan G and others.
Prior to this, BHIVE had attracted investments, from the likes of Raghunandan G (Founder, TaxiForSure), Rajesh Rai (Venture Capitalist and co-Founder, Venturesity), Arihant Patni (Managing Director, Hive Technologies), Sanjay Mirchandani (Owner, Mirchandani Group), Arun Narayan (Director, UK India Business Council) and others making it the largest co-working space in India's startup capital Bangalore.
With this $1 million funding, BHIVE plans to expand strongly in Bangalore while also establishing a presence in the top 6 cities of India. The funds will also be used to attract top talent, build technology that will further enhance customer experience and in turn position BHIVE as an undoubted leader in the office space market.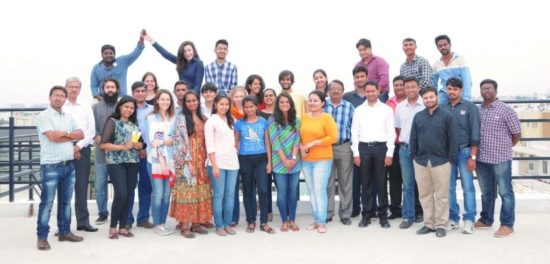 On this occasion, Shesh Palikar, CEO and Co-Founder at BHIVE Workspace, says, "We are super excited to have a reputed institution like Blume backing us. This is a very strong validation to what we have been doing so far. Managed workspace is a fast growing market globally and a multibillion dollar opportunity even in a single city like Bangalore. We are one of the fastest growing companies in this space in the whole world as well as one of the most profitable on unit economics. We have a diverse global team and we are running at 100% occupancy level, with a long waiting list. We will use the funding money for expansions both in Bangalore and in other major Indian cities before we venture beyond India. We will also use the money to attract top talent. We will also invest very strongly in technology, processes and brand building. We plan to have over 2 million square feet of office space under BHIVE management across 6 major Indian cities over the next 2 years."
"BHIVE represents a disruption in commercial real estate that's now brewing in India. They are already fine-tuning a template that can scale across all of the rapidly growing ecosystem in the country. When they achieved 100% occupancy in their largest space, we knew that they were onto understanding the dynamics and pricing policies that could make co-working spaces/shared spaces a success. In BHIVE, we've found a team that's capable of leading this change at scale and add the critical aspects of community and technology essential for the early success of this business," adds Karthik Reddy, Co-Founder and Managing Partner at Blume Ventures.
Further, Raghunandan G, Co-founder of TaxiForSure and an early investor in BHIVE Workspace added, "Being one of the early investors of BHIVE, I have witnessed exponential growth with them. The gap in the demand and supply for shared office spaces has been one of the key drivers for us. I never expected such inefficiencies in the office space market, which BHIVE has been able to tap into and exploit. It was all possible because of what team BHIVE has been able to put together. Individuals like Monnappa and Prashant Kumar bring years of experience and expertise with them that has taken BHIVE from a start-up to an established company."
Prashant Pahade, an Investor in BHIVE Workspace also uses the space for his startup Agumbe Technologies. He adds, "As an Investor, I love their passion, integrity, commitment and vision, which are critical for a successful venture. Moreover, the entire BHIVE team is very friendly and is always willing to help and go beyond the call of duty. As a customer, I find tremendous positive energy in BHIVE Workspace, access to startup eco-system and the flexibility to scale up or scale down."
Raju Shetty, CTO at NeoGrowth which is based out of BHIVE adds, "BHIVE is an inspiring, fun and a collaborative workspace at the heart of Bangalore's start up ecosystem and we feel we made the best choice for our office space! Events such as fun Thursdays are like icing on the cake and comes with an emphasis on technology and entrepreneurship. This platform opens up your network and brings in energy and knowledge sharing with some of the brightest minds in the industry."
BHIVE Workspace Raises 1 Million USD Funding