Clovia, India's fastest growing lingerie brand, launched its activewear range on the occasion of International Yoga Day on June 15th. The range consists of work-out essentials and focuses on fusing functionality & style. It targets women who want to look great when working out, and the pieces include, Sports Bras, Exercise T-shirts, Stretchy track pants. Ergonomically designed seaming, compact stretch and comfort fit fabrics this range is available on the online store of Clovia.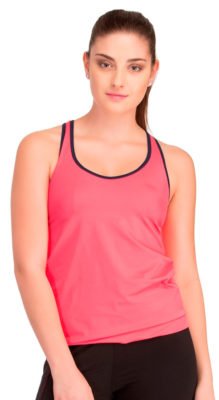 Comfortable yet stylish: The Sports Bra Collection
The Sports Bra collection is made of cotton blends, lightweight polyester blends, and polyamide fabric. These bras are designed to give maximum support & comfort and allow for ease of movement while exercising.
Magic Bras the latest from the stable from Clovia, are built from revolutionary seamless technology using specially imported yarn on Italian machine. This specialised yarn has 8% spandex that delivers stretch-ability and support. Since, the bra has no seams and sews, it has a smooth fit and feels like second skin, almost invisible under the clothes.
The price range of Sports Bras varies from Rs. 599/- to Rs. 1299/-.
Commenting on the launch, Clovia's Founder, Neha Kant said, "Fitness and well-being are a huge part of today's woman and it feels like a really natural step for our lingerie range to develop and now include activewear pieces. With over xxx Yoga followers, we realised the need of appropriate clothes to perform asanas with comfort and ease. Our Active Wear Range has been designed keeping in mind the right fabric, design and fitting."
Tights and T-shirts: Help you stretch that extra bit
Apart from Sports Bra, Clovia also offers Sports T-Shirts, Stretchy Tights and Shorts. The Sports T-shirts are made of Polyester blended multi-stretch fabric. Soft and stretchable in nature, it keeps moisture and sweat at bay ensuring comfort. They are available in trendy designs and are easy to wash. The Sports T-Shirts price ranges from Rs. 499/- to Rs. 999/-
The Stretchy Tights and Shorts are made of Polyamide and spandex to let you stretch during Yoga/workouts. With a high rise waist fit and smooth seams for overall comfort, its wide elastic waistband results in the best fit and comfort. The sweat proof layer helps keep the body dry and cool. The fabric allows easy movement with comfort throughout the workout. They are available in cool prints and bright colours to add that dash of style. The price range of Stretchy Tights is from Rs. 499/- to Rs. 1299/- while the Shorts range from Rs.399/- to Rs. 599/-.
Clovia Announces the Launch of its latest Active Wear Range