New Delhi: Delhi Chief Minister Arvind Kejriwal on Tuesday said the government will announce in two or three days a premium air-conditioned bus service.
"It will be a fully air-conditioned premium bus in which no standing passengers will be allowed," he said.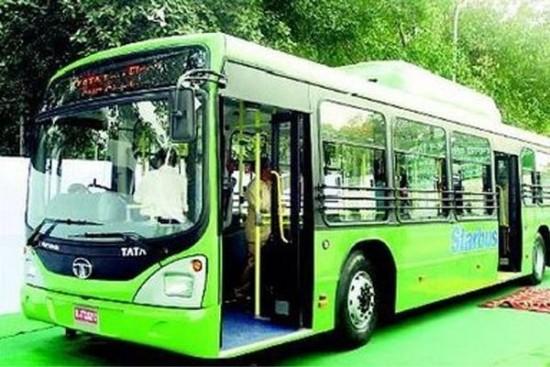 Kejriwal admitted that it was "difficult for people who drive cars to switch to public transport. The bus aggregator policy is targeted to bring such people to use public transport".
He said the government would engage private players for the new service.
Speaking at a conclave on "Our Right to Clean Air", Kejriwal said the government would buy 3,000-4,000 buses in the coming year to improve Delhi's public transport system.
The problem, however, would be to find space to park them.
"The government has no land to park thousands of buses. According to our estimate, the government needs at least 500 acres of land to park 10,000 buses.
"But the DDA is asking Rs.4 crore per acre which will be very expensive for the government," he said, adding that his government had suggested the DDA to lease the land at Re.1 per acre.
He said elevated bus corridors would be built in the city for undisturbed movement of buses.
"There will be dedicated bus lanes so that the buses also reach their destination on time like the Metro. Cars can also run on these lanes after paying a fee."
Clarifying why the government exempted two-wheelers from the odd-even scheme since they too contributed to pollution, Kejriwal said there would be "utter chaos" in Metro and buses if this was not done.
"When we were analysing the performance of odd-even phase 1, we found out that the ridership in metros and buses increased only marginally. The main reason for this was that many people car-pooled.
"But this would not be the case with two-wheelers. If we ban them, there will be anarchy and utter chaos in Metro and buses."
He said two-wheelers would be covered by the odd-even scheme only after a sound public transport system was put in place.
"There are over 40 lakh two-wheelers in Delhi. If we ban them they would switch to bus or Metro, which means additional load of lakhs of passengers. We are not prepared to deal with it."
He said the Delhi government was doing more than the odd-even scheme to fight air pollution.
"Odd-even is mostly in the news because it affects the common man directly.
"We are also cracking the whip on PUC (pollution under control) centres which issue fake certificates, have banned waste burning, building green patches on dusty roads and (doing) many other things," Kejriwal said.
The Centre for Science and Environment organised a two-day conclave where activists and experts showcased the action taken in various cities to fight air pollution.
Delhi government to launch premium bus service