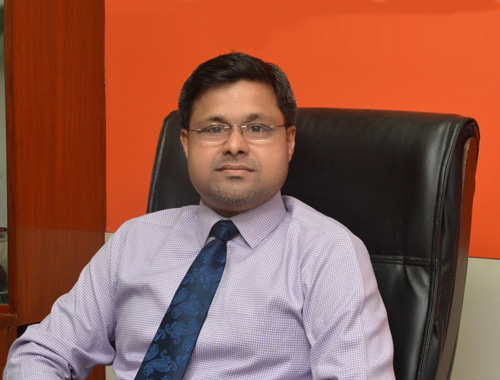 India Juris, one of the leading full service international law firm originated out of India and expanded to serve global clients from various continents. With a vision to be a leading international law firm, advising governments, global corporations and financial institutions on their most challenging and complex transactions and disputes. In an interview with Estrade; Mr. Sameer Rastogi, Founder India Juris shared his views on the prospects of different industries, new initiatives in the infrastructure sector and ease for new entrepreneurs in getting business.
---
Team Estrade: How's the PE and VC space looking in the new fiscal? 
Sameer Rastogi: Considering the recent amendments and steps taken by Government the new fiscal year seems very opportunist for both PE / VC. PE / VC investments rose in the first half of fiscal 2014 from a year ago with consumer companies in retail, e-commerce, and consumer packaged goods and quick service restaurants.India offers many opportunities to PE / VC players across all sectors due to large domestic market, presence of financial and capital market mechanisms, huge demand for infrastructure and track record of independence of judiciary, robust legal system and healthy rate of economic growth. Icing on the cake is the proactive and supporting attitude of the Government, leaving no stone unturned for the growth of Indian Market.
---
Team Estrade: What industries you are expecting to reach new highs in the new fiscal? and Why?
Sameer Rastogi: In my view most of the industries will share the growth in Indian Economy specifically:
Power: The Government of India has put immense focus on power sector including all forms of renewable energy and solar power. Several initiatives have been taken in terms of policy and programs ranging from bringing about efficiency in generation segment through introduction of super critical technology to penetration of commercial energy in the rural areas and consolidation of electricity delivery system.
Infrastructure: Infrastructure situation in India has undergone a vast change in recent years, with an increased focus on infrastructure development. The start of the last decade has witnessed increased investments in infrastructure sector, accompanied by a transformation in the business models with more proactive participation from private sector in the form of Public-Private-Partnership (PPP) projects, particularly in roads and power sector.This sector comprises roadways, ports, super highways, rail as well as aviation. This sector has unique opportunities of foreign investments in highway construction and management but is also bogged down by issues of land acquisition and environmental clearances.  Aviation too has good potential under new FDI norms. With Government initiatives as Smart City concept and high tech trains the infrastructure in India definitely have bright future.
IT and E-Commerce: India's strength in the Information technology sector is based on the development of sophisticated knowledge base and competence of specially trained professionals.This has continued to be the most preferred sector of global investors. This sector will be the immediate beneficiary of the current global recovery. The e-commerce industry continues to evolve and experience high growth in both developed and developing markets. With the emergence of non-banking players in the payments industry and innovative vertical specific startups, the Indian e-commerce market is expanding at a rapid pace and will continue to do so.
Healthcare Sector:Healthcare has become one of India's largest sectors – both in terms of revenue and employment. Healthcare comprises hospitals, medical devices, clinical trials, outsourcing, telemedicine, medical tourism, health insurance and medical equipment. The Indian healthcare sector is growing at a brisk pace due to its strengthening coverage, services and increasing expenditure by public as well private players. With many new initiatives and schemes for Health Care Sector by Indian Government India is becoming land full of opportunities for players in the medical devices industry. The country has also become one of the leading destinations for high-end diagnostic services with tremendous capital investment for advanced diagnostic facilities, thus catering to a greater proportion of population.
Real estate: With the introduction of The Real Estate (Regulation and Development) bill 2016, which will soon be law in India, it is expected that the real estate sector will be professionally organized and managed. The faith of consumer in the system will increase and with ever growing demand for housing and commercial space, Indian real estate will emerge as one of the fastest growing sectors of the emerging market in India.
"Icing on the cake is the proactive and supporting attitude of the Government"
---
Team Estrade: Your views on doing business with ease in the infrastructure sector after the modi government new initiatives.
Sameer Rastogi: The new policy initiatives and stress on development on the infrastructure of the country will definitely lead to the doing business with ease in this sectors which includes infrastructure sectors such as power, coal, housing, ports etc emphasis on electrification of villages across country, target of 175 GW of renewable energy by 2022, broadband connectivity of all gram panchayats and villages and in ports sectors improving the average vessel turnaround time in line with international standards.
---
Team Estrade: How easy it is for the new age entrepreneurs to get their projects financed today?
Sameer Rastogi: It is comparatively easier for entrepreneurs to get their project financed, lot of support from government through policy and other measures have been provided to the entrepreneurs. A robust eco system of seed funding is getting developed in India which can be accessed by entrepreneurs in addition to traditional mode of financing.
---
Team Estrade: Any particular case study that you would like to share with our readers that can help them get more insight about working at IndiaJuris.
Sameer Rastogi: Recently India Juris advised on legal aspects to a Mauritius based investor on their Investment Jaipur based healthcare and Wellness Company having state of the art Multi Specialty Hospital in Jaipur, Rajasthan. In the India Juris transaction drafted all the commercial agreements such as Share Purchase and Share Subscription Agreement &Shareholders' Agreement. The transaction and investment was structured through instruments such as Compulsory Convertible Debentures.
India Juris also assisted the investor in conducting the legal due diligence of the target investee company in Jaipur. The detailed due diligence covered all compliance and legal aspects of a company in healthcare, wellness and hospital sector. The Lawyers working at India Jurisenjoy to innovate and devise the investment structures for the Investors. Presently one of the major area is Investment by way of Non-Convertible debentures in Infrastructure and financial sectors on which India Juris's Corporate team is actively working.
Devising investment structures for investors: India Juris