Radius Developers and Deserve Builders Join Hands to Develop a Contour Living 40 Acre Township in the Heart of Chembur, Mumbai
First Phase Includes Studio Suites, One and Two BHK Residential Apartments Starting at Attractive Prices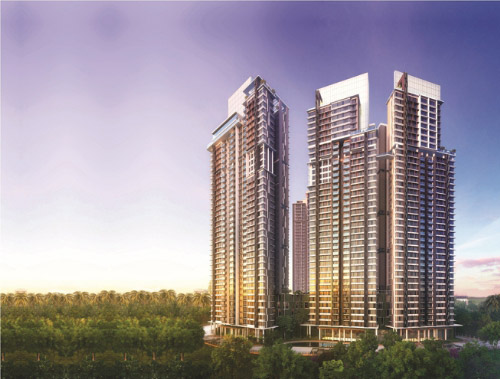 Mumbai: Radius Developers and Deserve Builders launched an integrated township, Project Central Park spreading across 40 acres in Chembur. A first of its kind multi-layered development, the project is at one of the most sought after and well-connected locations in the city.
Nestled on the eastern hills of Chembur, Project Central Park lends itself to unique contouring; with 60% open space and 10 acres of lush green landscaping adding to the scenic beauty. The township is being developed in two phases, the current one consisting of towers with immaculately designed studio suites, 1BHK, 1BHK Premium and 2BHK apartments that reflect the changing needs of the urban Indian.
The unique offering by Project Central Park includes studio suites that efficiently utilize smaller spaces with the best of amenities and features for comfortable living. Studio suites are best suited for young working professionals to combine high quality lifestyle with proximity. These set of home buyers are essentially value seekers who are comfortable with slightly smaller unit sizes, provided they get the lifestyle they desire within the city; and that's where the starting ticket size of Project Central Park fits well.
Located in the center of the city, it saves them a lot of travel time while offering the international lifestyle of an integrated township. This enables residents to have more personal time while staying in the center of all action.
At the launch of Project Central Park, Ashish Shah, COO, Radius Developers said, "Chembur, today, is one of the fastest growing micro markets in Mumbai's residential real estate. The area is bestowed with good infrastructure and has the best kind of connectivity. Designed to be a self-sustained city within Mumbai, Project Central Park, aims to foster community living that will redefine the neighborhood."
Utkarsh Sarda, Deserve Developers added "Project Central Park in Chembur is an epitome of integrated township in the heart of the Mumbai. It will offer premium comfort and superior accessibility to its residents."
This city within Mumbai will be equipped with ultra-modern amenities and offer a world-class lifestyle. The project design blends with the charm of the hills to create visual vistas and promenades. The development has a mix of asset class of retail and food and beverages in addition to comprehensive amenities.
The project was launched on April 15, 2016. Construction work has already commenced at site.
Radius Developers & Deserve Builders Join Hands to Develop 40 Acre Township