India's leading mobile health and fitness startup HealthifyMe, today, announced Series A funding of US$6 million led by IDG Ventures India, Inventus Capital and Blume Ventures. The funding comes just a year after they announced their seed round led by Angel Investors and Micromax. 
HealthifyMe's funding comes on the back of strong growth. Within a year, HealthifyMe has scaled from 30,000 users in Jan 2015 to being the largest app in the space with 5,00,000 users across Android and iOS. It has also successfully delivered corporate wellness programs with Philips, GE, Cognizant and added Manipal Hospitals as a strategic Healthcare partner. It expanded its services offerings from nutritionists to fitness and yoga trainers and the HealthifyMe app became the only Health app in India to receive the Top Developer Badge – Google Play's highest recognition for quality and innovation.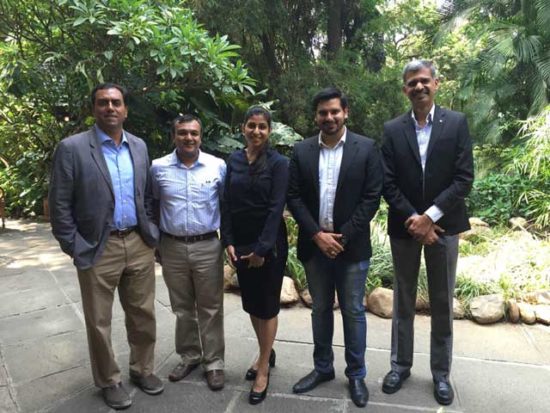 The company uses technology and human services to target weight-loss and it's programs are effective in prevention of lifestyle diseases such as diabetes, hypertension. The funds will be used to further develop its digital coaching platform and to accelerate growth in India. "Our vision is to make healthy living easy, fun and affordable for all. With these funds we plan to impact 5 million users and tie up with over 500 corporate and healthcare partners. While we are already the leading app for health/fitness in India, our aim is to be the best in the world and we will continue to invest heavily in our technology and product." said Tushar Vashisht, CEO HealthifyMe.
HealthifyMe's app is free and enables users to keep a track of their calories, set personal fitness goals and measure progress. It boasts of the world's largest database of Indian foods and syncs with all leading wearables including Fitbit, YuFit, MiBand amongst others besides its own fitness band RIST™. As part of its subscription services, HealthifyMe connects users with elite nutritionists and trainers who review their progress, provide diet/fitness plans and work with the users to help them achieve their weight, fitness goals.
HealthifyMe partners with medical institutions such as Medanta – The Medicity, Apollo ACODE and Manipal Hospitals, where its mobile application has proven effective in treating and preventing obesity, diabetes, cardiovascular problems and other lifestyle diseases. Dr Sudarshan Ballal, Chairman of Manipal Hospitals says "Manipal hospitals is proud to partner with HealthifyMe and together we are able to monitor and manage patients' diet, weight and deliver counselling digitally. The program is integrated with preventive health check programs and is helpful in better management of non communicable or lifestyle diseases –  the curse of modern living."
HealthifyMe also has a gamified, social platform that is being used by progressive Corporates to engage and reward employees for healthy behaviour. Unlike others in the space that are focused only on steps, HealthifyMe engages employees wholistically around healthy eating, running, weight, hydration etc as well. Given its mobile-first approach, the platform is cost efficient and massively scalable and has been used by PMC Sierra, Indegene, Unilever amongst others.
"HealthifyMe has strong engineering and product ethos. It is leading innovation in the space in India and the feedback we got from customers and corporate partners was extremely positive. HealthifyMe is going to set the benchmark for wellness delivery in India, and we are proud to support it" said Rutvik, Director, Inventus Capital.
"Led by Tushar's exceptional leadership and entrepreneurial zeal, HealthifyMe has demonstrated consistent strong growth over a period of time. Despite the overhang of a tough market, the company has focused very sharply on unit economics and on creating an asset-light model of delivery. The large market they are addressing is ripe for disruption and we are very excited to partner with them" said Karan Mohla, Executive Director, IDG Ventures India.
"We've been tracking the health/wellness space closely and were impressed by how quickly Healthifyme developed an integrated solution comprising a user friendly mobile app, layered with online tools as well as offline services. We liked their drive, energy and the deep domain expertise they've acquired. We believe Healthifyme is poised to impact millions of Indians, becoming their 'daily health app' and helping them stay healthy and fit", said Sanjay Nath of Blume Ventures.
HealthifyMe Raises $6 Million in Series A