A DARLING IN YOUR FIFTIES is a psychological novel which focuses on the lonely journey of Neema, the protagonist, trying to refashion her life as a struggle for survival after been abandoned totally by her lawyer husband, Arjun.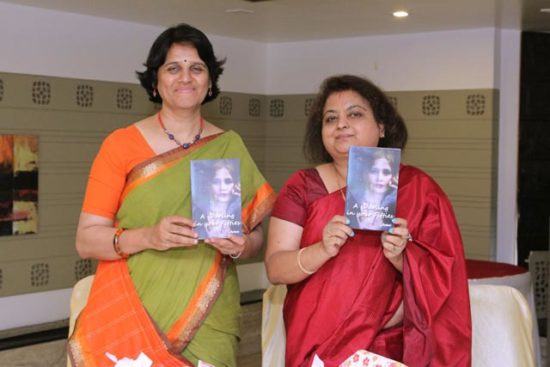 The venue was filled with media along with friends and family of the author. The event began with unveiling of the book followed by the author's daughter, Smera reading her favourite excerpts and her favourite poem to an eager audience. The author had an amazing conversation with Chief Guest Mrs. Ujjwala Barve in regards to achieving one's dreams and passion.
Mrs. Barve says, "I am very happy that I am a part of this book launch. I was immediately attracted to take up the offer of launching this excellent book. I am in my fifties, myself and relate to the book. I was in awe of the cover and how it arouses the curiosity of a reader right from the beginning. The protagonist in the story goes through various emotions and carries the reader along with her."
About the Author
Nagalakshmi M G aka Ashmi is an Indian writer, educator, and counsellor. As a free-lance journalist, she has published light reads in front line magazines and newspapers. A DARLING IN YOUR FIFTIES is her first work of fiction. She lives in Pune and often travels to Bangalore which is her native town.
To know more visit www.ashmisfiction.com
Mrs. Ujjwala Barve Launched Nagalalakshmi Aka Ashmi's Debut Novel 'A Darling In your Fifties'