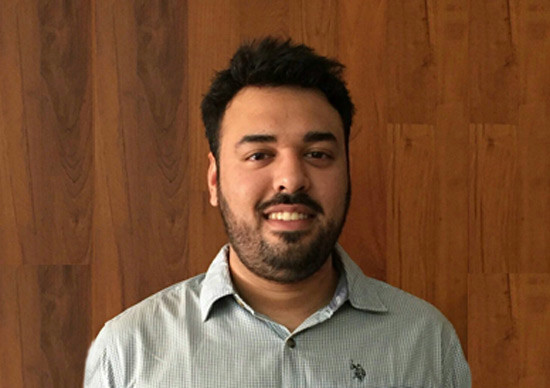 Hashtag​ ​Loyalty is a digital universal loyalty program that helps customers get rewarded at hundreds of local businesses using one app or card. At the same time #Loyalty provides businesses a customer-powered marketing solution to help retain and acquire customers while simultaneously delivering meaningful customer analytics.
Launched in March 2015, #Loyalty has seen a marvellous response from both businesses and consumers. Currently, live at 140+ locations in Mumbai, and having crossed 34,000+ Consumers Mr. Krishi Fagwani, Co-founder, Hashtag Loyalty aims at achieving 1500 outlets across 3 key cities in the year 2016. Excerpts:
Team Estrade:  Can you talk a little about your background?
Brief Background:
Krishi Fagwani: I am Krishi Fagwani, Co-Founder at Hashtag Loyalty. I graduated with a BSc in Mechanical Engineering from the University of Illinois at Urbana Champaign. Post graduation, I worked as a Systems Engineer with Cisco Systems in Raleigh, North Carolina as part of the Enterprise OS team for about 9 months after which I decided to move back to India. When I moved back, I took up a job at E&Y in their IT Risk practice focused on the Financial Services industry.
Why we came to found Hashtag Loyalty:
When I was in school, the happiest time of the day, for me, was when I stopped at my neighbourhood cafe on my way home. As soon as I walked into the cafe, I was greeted by a warm and welcoming "Hello Krishi, how was your day at school?" The staff personally knew me, my favourite sandwiches and even knew about my shellfish allergies. Nothing would put a smile on my face like when I found a complimentary pastry at the bottom of my carry out bag. I soon moved to the U.S. to pursue higher education and when I returned home 7 years later, I experienced a drastic change in the environment of my favourite cafe. There were no familiar faces, no greetings and no free pastries. This little anecdote from my early life has forced me to think, what it that has caused this changes and how can I get my childhood experience back.  Over the last 5-10 years, due to globalization, what we are experiencing is a rapid depersonalization in the way businesses work. There are thousands of businesses catering to crores of customers, but the businesses don't know who these customers are. In this day and age where customers have multiple options available for their each need – viable business cannot afford to not know their customers. This is where the need for smart data arises for SMBs.
The Pareto Principle where 80% of your business comes from 20% of your customers holds true for almost all Businesses. Yet the businesses do not focus much on retention. But how will they if they do not know who their customers are. Currently businesses lack affordable technology to successfully engage with their customers and their is a significant disconnect.
At the same time the entire loyalty ecosystem for consumers is chaotic and cluttered. Multiple Registrations, Multiple Cards/Apps, Lack of awareness of "What is in it for me?" and too many unnecessary conversations.
This is where we fit in – we help turn every transaction to a relationship. We wanted to de-clutter the loyalty system for consumers and at the same time provide SMB's to tools (that were otherwise extremely expensive to build) and a minimal fee, levelling the playing ground with larger organizations.
---
Team Estrade:  How you came to found Hashtag Loyalty?
Krishi Fagwani: I met Dhruv Dewan (one of my co-founders) at E&Y during my time there. We spent a lot of time together since we were assigned to the same project for a couple of months. He felt the same about the Loyalty space in India and we decided to get started on this project. Karan Chechani (one of my co-founders) has been a close friend since more than 2 decades. Co-Incidentally, Dhruv and Karan attended college together in Mumbai. All three of us were on the same tangent and we felt the same about this industry and we ended up starting Hashtag Loyalty.
"Customers get rewarded everywhere they go with a singular loyalty eco-system"
---
Team Estrade:  What services are provided by Hashtag Loyalty?
Krishi Fagwani: Hashtag Loyalty is a customer powered loyalty program that helps break loyalty down to the basics – the business and the customer. For customers, it is one card/app everywhere you go! Registration is simple – one time sign up with email. De-Cluttering customer wallet and getting rid of all issues with respective to loyalty. For businesses, we provide a customer powered loyalty and marketing tool that allows them to track customer activity, to increase engagement, to acquire new customers and bring back existing ones more often.
---
Team Estrade:  What is the USP of Hashtag Loyalty?
Krishi Fagwani: For consumers, we provide a universal platform that they can use to earn and redeem points at businesses everywhere they go through a fun and engaging user experience.
For businesses, we provide a customer powered loyalty program and robust marketing tool that helps them track customer activity and behaviour, conduct targeting marketing activities, acquire new customers and bring back existing ones more often. Essentially we are providing businesses with technology that they otherwise would not have access to and are levelling the field with the enterprise businesses.
"Loyalty is just tip of the iceberg"
---
 Team Estrade:  What is your Marketing/Promotional approach?
Krishi Fagwani: The traction we have received till date has been without much marketing. While we are active on social platforms like Facebook, Instagram & Twitter, most marketing takes place in-store at our partner locations. Since each business owner on our platform treats our product as their own loyalty program, they take active interest in promoting it to their customers.
We have followed a cluster based growth approach since the start and this has really helped us spread the word about Hashtag Loyalty. Typically, we bring on board 4-5 locations from a particular area at the least before we launch there. Since we are a single platform for consumers, they see more value in the product if they can use it at multiple places around them. This creates the stickiness!
Once a customer signs up with us, we have a bunch of emailers, notifications etc to boost customer engagement and get them hooked onto the platform.
Moving forward, we will be doing a bunch of activities etc to promote our mobile applications. We will be launching referrals in our next mobile app update to gain some more traction on that front. Also a bunch of activities along with our existing clients at corporates will help us directly reach the target audience we are going after.
---
Team Estrade:  Geographically speaking which key cities are you catering and further planning to expand your reach?
Krishi Fagwani: Currently, we are live at 140+ outlets in Mumbai and cater to the F&B, Salon & Spa and Fitness industries. However, we are also entering the Entertainment and Retail industries over the next few weeks. Our growth will be purely based on market saturation and we are looking to raise a seed stage investment to help us get to 1500 outlets across 3 Cities (Mumbai, Pune, Bangalore) within a span of a year.
---
Team Estrade:  What are the short term and long term goals you have set for HashtagLoyalty?
Krishi Fagwani: Immediate short term goal is to raise $600K to help scale to 1500 outlets over a 1 year period (across 3 cities).
Immediate targets in order to achieve this goal are to setup a strong sales & operations team and add to our tech team to strengthen the technology infrastructure. We believe that a repeatable marketing and expansion strategy coupled with a no-lose proposition will help us replicate the same in other cities in the future.
Long term goal – is to scale to 6000 outlets across 5 cities. Hashtag Loyalty's mission is to help small and medium sized businesses unlock the power of data, email, social and mobile marketing. We are working towards revolutionising the in-store customer experience.
Loyalty is just tip of the iceberg – with the amount of data being captured – the vision is to leverage this data to provide customer & businesses recommendations & insights to make the right choice.
At the same time the aim is to build a consumer facing brand – where customers can get rewarded everywhere they go with a singular loyalty eco-system.
We help turn every transaction to a relationship: #Loyalty