The global outsourcing market in Banking, Financial Services and Insurance (BFSI) sector is forecasted to grow to a CAGR of 6.79% during the period 2016-2020.[1] While there is a slowdown in expected growth for IT companies globally, the Indian BFSI sector is yet a potential market for these IT companies – because India is ranked third amongst countries most affected by financial trojans after USA and Germany.[2]
Moreover, the BFSI security market is not bound only to India – its global market size is estimated to grow from US$ 25.61 billion in 2015 to US$ 44.38 billion by 2020, at a CAGR of 11.6% from 2015 to 2020.[3]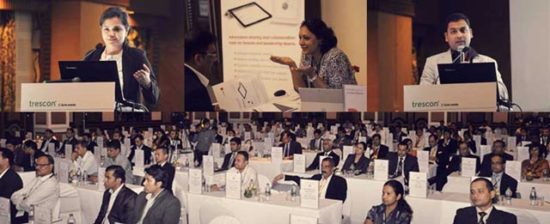 The industry needs a fresh impetus on the latest and futuristic innovations in the world of IT that will holistically enable it to address its major challenges and opportunities. With this vision, global business events and consulting firm Trescon is hosting key senior level decision makers from the Indian BFSI industry to meet with leading local and international technology firms who are showcasing at the upcoming 4th Edition BFSI India Conclave on 26 – 27 May 2016 in Goa, India.
The conclave is featuring some of the top IT thinkers and thought leaders including, K.R.C. Murty, Vice President – Chief Technology Officer at Deutsche Bank Ag; Chandra Gupta, Chief Technology Officer at Reliance Capital Asset Management; Mohan Vizhakat,Group Chief Technology Officer at Manappuram Finance; Shivkumar Pandey, Chief Information Security Officer at National Payment Corporation of India;  Pallab Bhattacharya, Vice President Business Excellence & Transformation at Edelweiss Financial Services;Harish Sharma, Group Vice President & Head (IT) at Toyota Financial Services; K. V. Dipu, President & Head (Operations) at Bajaj Allianz; Manoj Mishra, Vice President Technology at Magma Fincorp; Bhavesh Lakhani, Senior Vice President & Chief Technology Officer at DSP Blackrock; Nabankur Sen, Chief Information Security Officer at Bandhan Bank to name a few.
The event is designed in a hosted delegate format which facilitates ample formal and informal interaction between hand-picked delegates and solution providers. Set in a 5 star resort in Goa, the venue itself ensures an informal yet business oriented environment. The event also features high level keynote presentations, thought provoking panel discussions and pre-arranged one-to-one business meetings between the delegates and technology providers.
Agenda of the conclave revolves around some of the pressing issues challenges and opportunities such as Digital transformation in BFSI through technological innovation, Understanding the growing business needs of BFSI players that lead to the adoption of new IT infrastructure, BFSI Today – Driven by Data Analytics, Importance of building a security strategy that will help build trust in the digital world for the BFSI sector.
Mr. K.R.C. Murty, Vice President – Chief Technology Officer at Deutsche Bank Ag. said, "Technology in BFSI is and will always be a game-changer and is embraced to serve clients easier and faster from 'paper and branch based banks' to 'digitized and networked – banking services."
He further added "Investments in newer technologies such as mobility, virtualization, dev OPS and security is imperative and the way business is carried out will change the scenario. New payment banks are already embracing these latest technologies and pushing the legacy giants to fast-track the implementation for the benefit of clients."
The Conclave is supported by leading innovative technology solution providers such as Nanjgel, Lastmile, Ameyo, Senrysa, Seclore, Liferay, Trend Micro and DronaHQ to name a few.
Mohammed Saleem, Chief Executive Officer, Trescon said, "IT spending in the Indian banking industry is on a major growth trend. The BFSI India Conclave is a great opportunity for technology providers to capitalise on the increased IT awareness as well as to address the key challenges faced by the industry. We look forward for another successful edition of the BFSI India Conclave."
Indian Banking Sector Ripe for Innovative Technologies