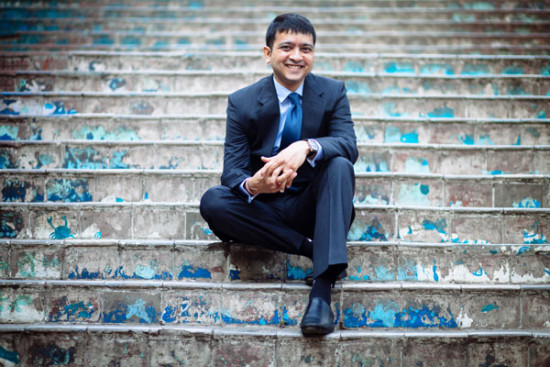 Kingston Technology is the world's largest independent manufacturer of memory products Mr. Vishal Parekh, MD, Kingston Technology India, the leading brand in memory modules and data storage. He has lead Kingston in India for more than seven years and has been a key architect of the company's strategic vision.Excerpts:
Team Estrade: Kingston has been in the technology world since more than 3 decades now; give us a brief about Kingston's technologies and innovations since inception?
Mr. Vishal Parekh: Reliability has been the cornerstone Kingston's business and the company was born in 1987 out of the dire need for innovation. Ever since, Kingston has been a pioneerfor introducing a plethora of memory and storage solutions that have helped transformedthe industry's outlook towards technology and made it easier to understand.
         There aretoo many products and solutions to mention but here are a few.We launched our DataTravelerHyperX Predator 1 TB USB drive a few years back and it still remains to be the only recognized USB drive with such high storage capacity and build. With DataTravelermicroDuo, we were the first to showcase and introduce the concept of a dual drive for smart devices. We improvised further and introduced the first dual USB drive with USB 3.1 and USB 3C technologies in one. We were the first to give a demo for DDR4 memory modules way back in Jan 2014 and have helped educate the masses about it. Our foray into the premium headset market has been applauded by media and customers alike.
---
Team Estrade: Could you tell us about HyperX? And how does it position in Indian markets?
Mr. Vishal Parekh: HyperX is our niche high performance product line up and is known globally for design, quality, performance and innovation. Today, we have really good looking and high performance USBs, SSDs, Memory modules, headsets and mousepads under the HyperX brand name.
HyperX is targeted to tech enthusiasts, gamers and to people interested in high performance and high speed.We have quite a few products planned for launch this year and that tagged with Kingston's strong channel presence, we are positive to further strengthen the position of HyperX in Indian market.
---
Team Estrade: What reforms are expected from the Government of India that will favour your industry?
Mr. Vishal Parekh:    Right now, India is a big opportunity for us on the global business map. We expect the government to focus on building the infrastructure required to complement India's growing tech sector at multiple levels. This will in turn help the industry make better technology more accessible to Indian market.
"Kingston has been a pioneer for introducing a plethora of memory and storage solutions"
---
 Team Estrade: What strategies does Kingston apply to keep up with the upcoming technological advancements?
Mr. Vishal Parekh: Being dedicated in our approach, we are proud innovators and have been trend setters for new technologies like DDR3, DDR4, SSDs etc. Our strategy is simple: We believe in better quality, durability, pricing, service and the overall experience that we bring to the table. Indian consumers believe in Value for Money and Kingston caters to consumers for both, enterprise and personal use, by offering best-in-class quality memory products at a very competitive price.
---
Team Estrade: According to you how fast will data-storage capability grow in the future?
Mr. Vishal Parekh: Indian market is so vast and starving for data usage, that it is not easy to put a number on it.The growing usage of smart devices and systems at all levels of corporate structures and even individuals, has led to the rise.The requirement is growing and so is the capacity to store this data. Key thing that would lead to fast data storage capacity will be a smarter, swifter data analytics system in place, which is the prime benefit from our specialized memory and storage solutions.
"The requirement is growing and so is the capacity to store this data"
---
Team Estrade: What are the key company milestones for the next 6-12 months that need to be achieved?
Mr. Vishal Parekh: India, being a big volatile market, our aim would be to see more people upgrading their old slow systems rather than buying newer ones. It doesn't necessarily need to cost a lot to want good performing machines. With the efforts and investments we make, we are trying to make the better technologies more affordable to the masses. To give perspective, an 8GB HyperX Fury DDR4 memory module was available for approx. INR 8,000 to INR 10,000 sometime last year, and the same is available today for approx. INR 3,500.
Kingston has seen success with the help of channel partners, media initiatives and educational campaigns and we expect more engagements on this front. More the customers become aware about the available products and solutions, more would they benefit in their business.
We are innovators & trend setters: Kingston