Mobile web continues to play a significant role in India's ecommerce space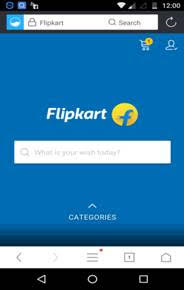 New Delhi: UCWeb, the maker behind UC Browser, India's No. 1 mobile browser with over 55% market share (according to StatCounter) and a business within Alibaba mobile business group, has partnered with ecommerce major Flipkart in an effort to offer its users shopping on the go. Flipkart site, now available on the home screen of UC Browser, will offer a seamless and enhanced shopping experience to users on web, even under low network availability.
The newly launched mobile-site aims to provide a top-notch experience to shoppers with core features such as search, offers and cart. Flipkart will gradually integrate advanced features in the subsequent releases. The mobile site is an endeavour to provide the users with a smoother, faster and more interactive flow than other mobile sites.
Announcing the partnership, Robert Bu, GM, UCWeb India said, "The m-commerce market is thriving with local e-tailors offering big-ticket discounts and mega offers. UC Browser, as the most popular browser in the country and Flipkart, the leading e-commerce company in India, would give users the best and most enjoyable shopping experience, along with the best offerings you can find on the internet."
Mobile web is an important gateway for ecommerce
While native apps are getting more and more popular, browsers are also providing increasingly better web experience to users. Only recently, UC Browser's mega online shopping carnival saw over 17 million hits, with increased demand for lifestyle and household products. UC Browser also reported a 75% jump in its traffic for ecommerce in the month leading up to Diwali 2015. UC Browser, as a mobile gateway to internet for many mobile only users, is capable to deliver significant traffic to ecommerce sites.
Robert Bu added, "With over 50% of India's internet traffic coming from hand-held devices, e-commerce players are witnessing huge traffic through the mobile. With higher spending power, better payment options and increased smartphone penetration, this number will only see a steady rise. We will continue to explore deeper cooperation opportunities with Flipkart in the future."
"Flipkart has always believed in providing a superior and convenient shopping experience to its users across all touch points. With mobile becoming the main front where the next gen of shoppers are coming from, this launch strengthens our mission to create an extremely responsive interface for users, even on the mobile web. We are excited to partner with UCWeb and revolutionize the e-commerce landscape in the country." said Surojit Chatterjee, Senior Vice President and Head Consumer Experience & Growth – Flipkart.
Download the latest version of UC Browser from ucweb.com or google play.
UCWeb, Flipkart Join Hands to Launch Mobile-Site