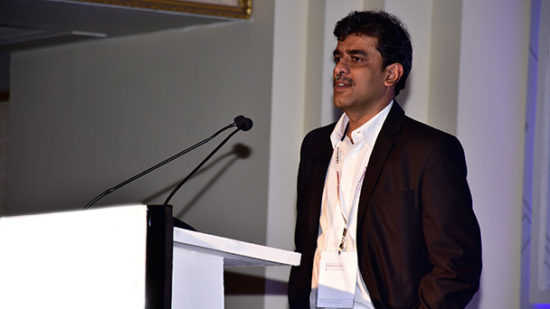 Allgo Systems journey began in the year 2005 and since inception; their solutions have been deployed in numerous fields of Automotive, Consumer and Security segments. The expertise in embedded systems, signal processing, software process and people management has given AllGo its strong foundation. Mr K. Srinivasan, Co-founder and chief executive officer (CEO), AllGo, has been leading the company since inception. Under his leadership, AllGo has grown to become a well-known brand worldwide in providing embedded software solutions for automotive and video analytics software products for surveillance.
Team Estrade: Tell us about AllGo Systems and your current responsibility as CEO?
Mr K. Srinivasan: Founded in 2005 by ex-employees of Motorola, AllGo Systems has successfully developed a wealth of solutions for automotive infotainment systems, high-definition video, shortrange wireless and consumer audio systems. The tide turned heavily in favour of automotive infotainment over the last 4-5 years and there has been no looking back. Now we are among the top two independent multimedia and smartphone connectivity software suppliers in the world serving a worldwide market.
As the CEO of AllGo, since its Inception, I have evolved from a technical manager to a people and business manager. Navigating the company through the high and low of business cycles has been a very rewarding experience. Now I look forward to taking forward the AllGo brand as an automotive software supplier under Visteon ownership.
---
Team Estrade: What are AllGo System's domain expertise & core competency?
Mr K. Srinivasan: Our products essentially span multimedia and smartphone connectivity. Our Multimedia Engine, called RACE, can play not only local media from USB/iPhone/Android phone etc, but also connect to streaming services. We have optimized the media engine to the specific needs of the automotive market. Our smartphone connectivity solutions offer CarPlay, Android Auto and MirrorLink based connectivity. We remain at the forefront of these new technologies as they evolve and have ready solutions that cut down the time to market for our automotive customers.
---
Team Estrade: How do you stay on top of the changes and developments taking place in your field?
Mr K. Srinivasan: We try to stay on top by innovating on our product/IP range. For instance, we are working on an interesting project called the CarPlay hub. CarPlay requires an on-the-go (OTG) port instead of just a host. The currently available hubs in cars do not support the OTG port. We are developing a mechanism that functions like the OTG port, for connecting an iPhone to the existing CarPlay hubs. We are the only players in the world offering this particular technology.  The other interesting project is called Android fast boot-up. Android phones typically take about 50 seconds for boot-up. Car radios can start in as early as eight seconds. So, as Android comes into automotive, we need a bridging technology and our snapshot boot-up technology enables. We also have recently innovated RACE 2.0 which provides integrated media and connective solutions.
We invest in early implementations of the latest in Infotainment smartphone connectivity and media usage within the car. By having cutting edge technology products readily available on a range of leading OSes and SOC platforms, AllGo provides the ability for the auto industry to do late design changes and still meet the exacting quality demands.
---
"We remain at the forefront of these new technologies as they evolve"
---
Team Estrade: Tell us about the recent acquisition by Visteon?
Mr K. Srinivasan: AllGo will retain its separate brand identity and legal structure even after Visteon acquisition. While we will supply technology for internal use by Visteon within its manufactured products, we will continue to serve our external customers including Tier1's and OEMs. As and when the market evolves where the OEMs start to control software directly, we will work with OEMs to supply them software and support.
---
Team Estrade: What according to you is the future of Automotive Infotainment in India?
 Mr K. Srinivasan: India happens to be one of the largest smartphone markets in the world today and Indians love to be connected and digitally empowered. Given this, the new age Indian car consumers are looking for connectivity and multimedia technologies integrated even on the cars they buy. In a demand generated market scenario such as this, content-rich technologies like IVI, Smartphone Connectivity and Navigation are emerging as the new playfields for carmakers, Tier 1 companies and car technologists in India. In the passenger segment, India is driving the low-cost availability of infotainment in A and B segment cars.
---
"What we create here at AllGo is leading technology that meets with the automotive industry's key requirements"
---
Team Estrade: Please shed some light on your roadmap for next 5 years?
Mr K. Srinivasan: AllGo has plans to further expand their geographic reach. Currently our development centre is located in Bangalore, with customer support, sales and marketing teams in the United States. Also, alliances have been established with partners in Europe and Asia. I believe, the key to the future of the company will lie in its ability to adapt. "Changes in consumer patterns will have to be correctly understood by software companies in order to be prepared and respond to the market in kind. What we create here at AllGo is leading technology that meets with the automotive industry's key requirements. We aim at being the number one Automotive Infotainment Technology Supplier worldwide. As the industry evolves towards semi-autonomous vehicles, driver may have more time to consume media while in the car. We are innovating to provide a distributed media playback experience in anticipation of a change in the media consumption pattern within the car."
The key to the future lies in our ability to adapt: AllGo Systems