Malabar Integrated Township in Thrissur will help create 50,000 jobs

Kerala:
Malabar Group, a leading player in the gold and diamond trade in the GCC and India, announced its plan to build the first and largest private sector IT township in Kerala that involves an investment of Dh1.07 billion.The group's property division, Malabar Developers, is developing the mixed-use master-planned community in Thrissur, central Kerala.
Malabar Integrated Township is envisaged as a world-class facility where one can live, work and play. The project, to be completed in five years, will encompass an information technology hub, a commercial business cluster, a large convention facility, a residential community, a shopping mall and entertainment centre.
The township, spread across 20 acres, will also host a five-star hotel along with a business hotel and an iconic residential tower that will raise the profile of Kerala in the urban landscape.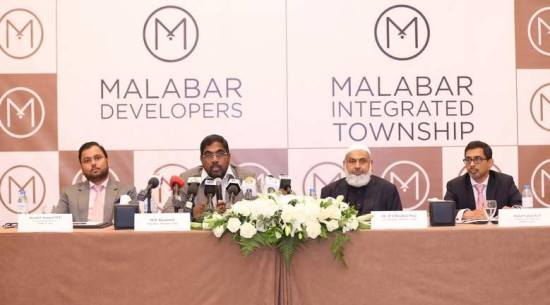 "IT professionals will be able to live and work within the same community that will offer them a perfect work-life balance. Conveniently located on the National Highway 47, the project is situated within 90 minutes driving distance of three international airports – Kochi, Coimbatore and Calicut," said M.P. Ahammed, chairman of Malabar Group.
The project, that will create more than 50,000 jobs, will be built on a five million square feet area. About 40 per cent of the area will be for residential projects while 30 per cent of the area will be for the IT business park.
Malabar Developers, which has delivered over 1.8 million square feet in residential and commercial segments of India, has ongoing projects of over three million square feet and another 10 million sq ft earmarked for construction, which includes around 5,000 residential units in eight cities.
"Malabar Integrated Township will help not only retain and nurture local IT talents, but also help attract those scattered across other IT hubs in the world," Ahammed said.
Malabar Integrated Township will also attract investment in outsourcing business – which due to a competitive environment worldwide – will look at more cost-effective destination. When it comes to cost advantage, no one can beat the cost competitiveness of Kerala.
"Our project has been carefully planned to offer a greater value to the global IT industry while looking at the economy of Kerala and India. The project, once delivered successfully, will become a model for the development of mixed-used integrated master-planned communities by private sector developers," said P.A. Ibrahim Haji, co-chairman, Malabar Group.
The project will offer office blocks on lease as well as sale for investors and IT companies. "As a socially responsible business group, we want to realign our business with the needs of the country and our society. Malabar Integrated Township will help Kerala to realise its ambitious target of $3 billion business and 500,000 jobs in the IT sector. Our facilities and the environment will match those in the developed world. We want our IT experts and professionals to enjoy the best working and living environment that money could buy – in Kerala," said Ahammed.
Shamlal Ahamed, group executive director, Malabar Group, said compared to other parts of the country, Kerala offers 30 per cent lower costs and provides electricity at 5.51 per unit, which is the lowest in the country. Such factors will help us achieve the target of 500,000 jobs by 2020. At five per cent, the attrition rate in Kerala is very low, compared to 25 per cent in Bengaluru, he said.
At present, there are over 600 IT companies operating in the state, and about 11 per cent of the country's total IT workforce is from Kerala.
K.P. Abdul Salam, group executive director, Malabar Group, said the social and communal harmony of Kerala combined with its moderate and balanced climate makes it a preferred destination in India. The location of the project – Thrissur – is an incubator for many entrepreneurs and is a major financial and commercial hub of Kerala.
 Malabar Group unveils plan for Dh1 billion IT township in Kerala