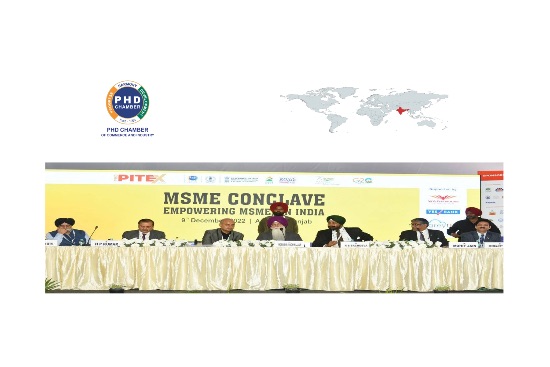 Lenders are utilising alternative sources of data to obtain a better understanding of the creditworthiness of MSME's
New Delhi, 9th May, 2023 : The Capital market and Commodity Market Committee of PHDCCI has organised a Seminar on Transforming MSME Credit with the Power of Data.
B K Sabharwal, Chair, Capital Market and Commodity Market Committee while addressing the session highlighted that "lenders are now utilizing alternative sources of data such as transactional and social media to obtain a better understanding of the creditworthiness of MSMEs. By leveraging these diverse data sources, lenders can create a more thorough and impartial assessment of MSMEs' credit risk profile, which in turn allows them to make well-informed credit decisions".
Shachindra Nath, Vice Chairman & Managing Director, U GRO Capital highlighted that the "utilization of data has facilitated lenders in assessing the creditworthiness of borrowers prior to granting loans and the probability of default. He further emphasized that technological advancements have played a pivotal role in revolutionizing this lending process".
Sanjeev Bhasin, Director, IIFL Securities stated equity is the sole asset class that holds the potential for compounding. He also expressed that India's growth rate is unstoppable and that the country is making remarkable strides in technology, with four times more digital transactions than China. Additionally, Mr Bhasin stated that data is emerging as a potent tool in the current digital age, significantly transforming the scenario of MSME credit.
Mohit Luthra, Asst Secretary General, PHDCCI welcomed all speakers and delegates and moderated the Session. There were around 100 delegates at the Seminar.
PHD Chamber of Commerce and Industry (PHDCCI) has been working as a catalyst for the promotion of Indian industry, trade and entrepreneurship for the past 117 years.
It is a forward looking, proactive and dynamic PAN-India apex organization. As a partner in progress with industry and government, PHDCCI works at the grass roots level with strong national and international linkages for propelling progress, harmony and integrated development of the Indian economy.
PHDCCI, acting as the "Voice of Industry & Trade" reaching out to more than 1,50,000 large, medium and small industries, has forged ahead leveraging its legacy with the industry knowledge across multiple sectors to take Indian Economy to the next level.
At the global level, we have been working with the Embassies and High Commissions in India and overseas to bring in the International Best Practices and Business Opportunities.
PHD MSME Facilitation Centre is an initiative of PHD Chamber of Commerce and Industry. As one of the four Apex chambers of the country, it is a key driver of policies at the National & State level with a large membership base of MSMEs.
PHD MSME Facilitation Centre is a ONE STOP SOLUTION for the MSMEs to expand their businesses and entering new areas. Major services offered by the Centre are:-
Information and Guidance to MSMEs for accessing Financial Assistance under various subsidy/ assistance schemes of the government.
Facilitating MSMEs for raising fresh Capital and Credit.
Providing information about Government procurement operations and government tenders.
Technology Bank to provide information about appropriate technologies.
Providing new project ideas and project profiles for starting a new businesses.
Empanelment of mentors to give mentoring support to Start-up entrepreneurs.
Facilitating MSMEs for participation in National and International events, Exhibitions and Vendor Development Programs.
Providing consultancy services for various Government Agencies and MSMEs.
Providing B2B opportunities for Registered Members of PHDCCI.
Read More Articles on Estrade Finance
Lenders are utilising alternative sources of data to obtain a better understanding of the creditworthiness of MSME's