NPCI launches Unified Payments Interface, the future of banking
New Delhi: National Payments Corporation of India (NPCI) launched a next generation payment solution – Unified Payment Interface (UPI) on Monday, 11th April in Mumbai. UPI aims to revolutionize online and mobile finance by leveraging the increasing smartphone usage and wider mobile networks, with an aim to increase the convenience and usability to a completely new level.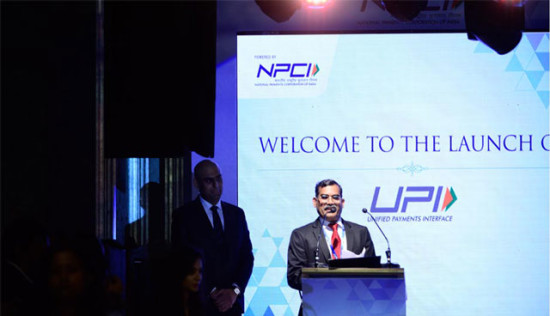 It was launched by Dr. Raghuram Rajan, Governor, Reserve Bank of India, along with Mr. Nandan Nilekani, Advisor to NPCI, Mr. Balachandran M., Chairman, NCPI, Mr. A.P.Hota, MD and CEO and Mr. Dilip Asbe, COO, NCPI with further live demonstrations of how UPI will be implemented and used for the current use cases.
UPI is a new payment method that gives the recipient the power to initiate the payment via a payment request from the convenience of their smartphones. This payment channel assimilates multiple bank accounts into one mobile application (anyone that the user is using) of a participating bank, bringing together several banking features, fund transfer and merchant payments under one hood – the virtual address. This 'virtual address' under UPI is a payment identifier for sending and collecting money using simple 2 factor authentication (PIN). To truly understand the significance of this, imagine how easy it would be to transact if money could be exchanged like emails. Guess what? That is exactly what this virtual address brings.
What it also brings is the ability to request payments, i.e PULL along with PUSH payments, compared to the now latest IMPS which only allows you to PUSH payments. This feature brings a host of convenience to multiple scenarios like Bill sharing, Bill Payments, Cash-on-Delivery alternatives, Over the Counter transactions, Donations, cases where an ATM is not available nearby or an exact amount needs to be paid.
To understand this, take a short example. Suppose you are purchasing something online and reach the payment gateway to select the payment mode, where you select UPI and enter your virtual address as the identifier. You immediately receive a notification on the smartphone app for the service to which that particular virtual address is linked (Your bank, Paytm, or other payment wallets), which when opened will ask for your secure PIN. Upon entering the PIN, within seconds your purchase will be completed and you would have purchased something online without sharing your account details, card details or waiting for any OTP.
As you can understand, UPI technology acts as an interface to wherever your money is stored and thus aims to revolutionize ecommerce. Currently, 29 banks are on board out of which 19 banks have already developed their UPI implementations. Most notably, SBI is currently working on its own app to make it UPI enabled. According to Industry leaders like Deep Kalra, Chairman and Group CEO, Makemytrip, Sachin Bansal, Executive Chairman and Co-founder, Flipkart and Vijay Shekhar Sharma, Founder, One97 and PayTM, UPI will become the next disruptive technology for e-commerce, with expected adoption rates to be almost double to that of net banking, which currently is a pain point for all the major ecommerce companies.
As validly pointed out by Dr. Raghuram Rajan, the only concerns regarding the implementation of UPI is greivance redressal with the multiple parties involved in one transaction (Sender, Receiver, their banks, service providers and NPCI). There's also a need for this ease to be available to offline users.
Many of us might have observed the transformation of digital payments from the emergence of online payments to two factor authentication, the rise of debit and credit card usage to the current trend of mobile payment wallets. UPI comes as a welcome change and it is to be seen if it truly turns out to be the gamechanger that the industry is perceiving it to be.
Source: Digit
NPCI launches Unified Payments Interface