Yoga guru Ramdev on Sunday said Patanjali would soon launch more dairy products, cattle feed and natural manure, as it is aiming a total turnover of Rs 10,000 crore by next year.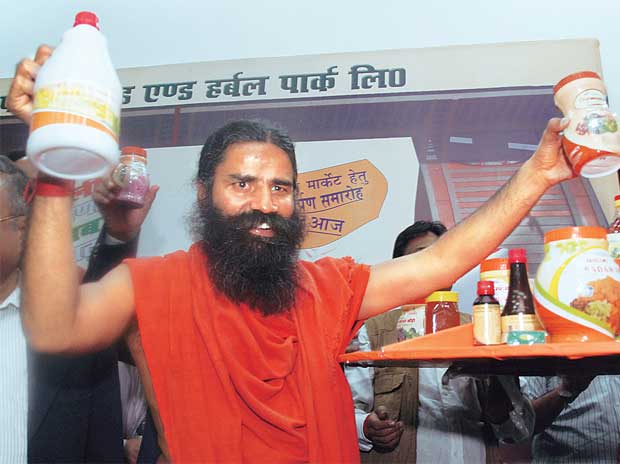 "We will come out with more dairy products like liquid milk. We shall set up 3-4 dairy projects so that farmers can be empowered and people get commodities unadulterated," Ramdev said.
He said the Patanjali Group would focus on six sectors natural medicine, natural food, natural cosmetics, dairy products, cattle feed and natural manure in a big way.
"We are coming out with cattle feed without any urea in it which will be beneficial for cattle," Ramdev said. He said he had seen feed being given to cattle contains one-four per cent urea which made adverse impact on more than 50 per cent of bovine in the country.
Yoga Guru further said that Patanjali Group would also roll out natural manure which shall contain micro nutrient, vitamins, etc for crops.
Ramdev said that Patanjali group would never roll out unhealthy products in the market. "I will never bring unhealthy items in the market, like meat, liquor, non-veg items which are harmful," he said, adding that Patanjali had no plan to make bread.
With Patanjali mustard oil advertisement campaign coming under fire recently, Ramdev said the advertisement has been stopped.
"We just had said that oil made through chemical process is unhealthy for people. And our Kacchi Ghani oil was made without any chemical process and it is a healthy product," he said. To a query, he said that Patanjali does not intend to take over any domestic brand.
"We are not taking over any brand like Zandu, Dabur, Hamdard etc. We want these companies should grow and these domestic companies should not fight with each other. Rather they should fight against other international (FMCG) companies," he said.
Ramdev said that more than 250 products including flour, medicine, rice are sold on 'no-profit no loss' which helps in rising prices of essential items.
Source: Business Standard
Patanjali to enter cattle feed segment, dairy items