Going overboard with home shopping decisions and repenting the same later is an angst every buyer can relate to. Be it buying the second hand rocking chair lying idle in the study room, or the lavish couch in the drawing room with no one to sit on it, one eventually ends up wondering about the futility of their purchase.
Taking cues from this insight, furniture-renting brand RentoMojo has recently released a quirky and smart digital campaign called #PappuNahiSmartBano,which educates consumers about the horde of benefits that come with renting furniture as opposed to buying. The campaign creatively brought to life a very interesting character -Pappu, who thinks he's smart by making certain lifestyle choices but soon realizes that he ends up spending a bomb, buying unappealing and expensive goods, eventually getting swindled. The quirky campaign transcended across various social media platforms to create awareness, encouraging people to get rid of their furnishing woes.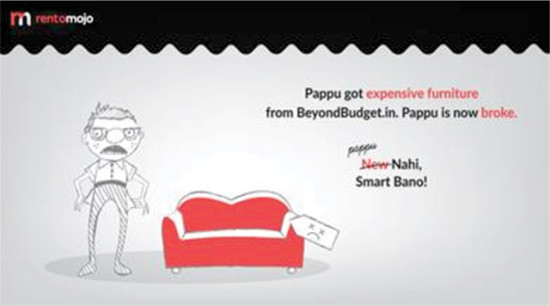 Speaking on creating consumer awareness on the trend of furniture renting in India, Geetansh Bamania, CEO & Founder, RentoMojo, said, "All our campaigns sport quirky visuals in order to attract consumers and educate them about the benefits of renting. The present digital campaign #PappuNahiSmartBano aimed to connect and empathize with all our consumers who want to have beautifully furnished houses but are unaware of affordable and smarter options. We hope through this campaign we have successfully reached out to all of these consumers and helped them actively, with their furnishing decisions."
Adding to this, Vaishali Singh, Head of Marketing, Rentomojo, said, "Working on this creative campaign felt like one long party, sitting around with friends and talking about situations in our life when we might have felt like a Pappu. Each one of us brought their own exciting vibe to the table and we are happy to see how the creative has turned out. We received a lot of appreciation for our last campaign and are looking forward to receiving the same again."
The campaign saw an active participation of 2,326+ Twitterattis who loved the hashtag #PappuNahiSmartBano and used it to share their imaginative versions of Pappu's buffoonery in everyday life. The campaign on Twitter reached out to 4.5 million+ consumers and also had 14 million+ impressions on the platform.
In the past, the brand had done some extremely quirky and bold campaigns that had taken everyone by surprise. Apart from outdoor promotion, the campaigns had been supplemented with radio ads, social media, Google Display Network (GDN) and event activations in specific catchment areas for students and corporate employees.
Bamania further adds that the advent of internet and ecommerce space has given way for millenials to cash in on the trend of renting and collaboration. "Today a 25-30-year-old consumer is still not sure of what city he wants to settle down in or how long he would stick to one organization and city. Plus he doesn't view renting as a taboo anymore; instead for him it is a more convenient option and a move towards a smarter lifestyle. We, as a category-creator, aim to provide affordable and appropriate rental solutions for all. This is evident from the fact that we started in December 2014 and today, we are already seeing an active customer base of about 6000+ across major metros," adds Bamania.
RentoMojo Gets Quirkier With #PappuNahiSmartBano