To set up 3,000 MW solar, wind and hybrid power units in Telangana; KTR meets company's CMD and Mahindra Group chief in Mumbai
Hyderabad: Suzlon Group, a major player in renewable energy space including wind power, is gearing up to establish renewable energy plants in Telangana, with an investment of Rs 1,200 crore.
The renewable energy major agreed to make these investments in the newly-created State after K T Rama Rao, Telangana Information Technology Minister, met the group's Chairman and Managing Director Tulsi R Tanti in Mumbai, according to an official release issued here.
"During his meeting with Suzlon CMD Tulsi Tanti, IT, Municipal and Panchayat Raj Minister K T Rama Rao requested him to make investments in Telangana. The company has made a major announcement that it will soon set up 3000 MW solar, wind and hybrid power plants in the State.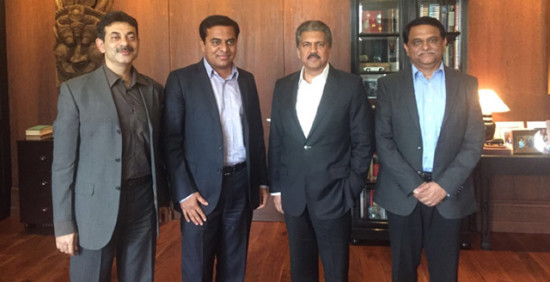 For these mega projects, the company will invest Rs 1,200 crore," the official release said. The Minister assured the company that Telangana government would extend all possible support for its projects.
The IT Minister who was in Mumbai to take part in VC Circle Partners Summit also called on Anand Mahindra, Chairman and Managing Director, Mahindra Group, and discussed the group's investment and expansion plans in Telangana.
Expressing his happiness over meeting with Anand Mahindra, the Minister expressed confidence that Mahindra Group's association with Telangana would be strengthened further.
Rama Rao, popularly known as KTR, also met Kotak Group Managing Director and Vice-President Uday Kotak, who said that the group would make more investment and create new jobs in Telangana.
Earlier delivering keynote address at the VC Circle Partners Summit, KTR explained the investment opportunities in Telangana and the policy initiatives taken by the government.
"As Telangana is led by a proactive Chief Minister, the State has received large scale investments in the last two years. Increasing realty prices and tariffs at hotels in Hyderabad is a good indication of increasing investments in Telangana," he said.
He further said that several new facilities had come up in Hyderabad for research as well as business development, citing T-Hub incubation centre as good example. "We will soon set up T Fund in which several global players are keen to invest. This first of its kind initiative will hit Rs 125 crore mark, " he said.
With this fund, government will encourage research in health technologies, internet of things (IoT), agri-tech and thematic B2B areas, he added. "We have announced most innovative and transparent industrial policy under which approvals are granted to industrial projects in just two weeks," he maintained.
Suzlon plans 1,200-cr spend on TS power plants