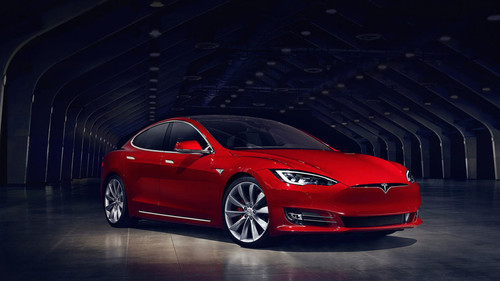 New Delhi: After showcasing the highly anticipated Model 3 for several markets (including India), Tesla has now revealed the upgraded Model S. The Model S, as we know, is the car that put Tesla on the global map among several big manufacturers, as a maker of electric luxury cars.
The upgraded Model S gets a really slim grille design that is edged by reshaped LED headlights. This look was earlier seen in the Model X crossover and more recently, in the India-bound Model 3. Now the lack of a conventional grille might not go well with everyone, however, Tesla has retained the otherwise brilliant design of the Model S. Inside, Tesla has added new optional and standard features such as heated front seats and different wood trimmings to spruce up the cabin.
The facelifted Model S continues to be offered with four different configurations for the drivetrain. The entry-level Model S 70 has a 315bhp electric motor that allows the car to accelerate from standstill to 100kmph in 5.5 seconds. The higher-spec Model S 70D, on the other hand, features an all-wheel drive and a dual-motor system that develops 328bhp. The 70D can accelerate from 0-100kmph in 5.2 seconds and also has a longer driving range compared to the Model S 70.
Moving on to the seriously powerful iterations, the Model S 90D has two electric motors that develop 417bhp and allow the car to hit 100kmph in just 4.2 seconds and hit a top speed of 250kmph. Lastly, there's the supercar-rivalling Model S P90D that has 463bhp and over 950Nm of torque, enabling this full-fat luxury sedan to accelerate from 0-100kmph in just 3.1 seconds. However, if that's not enough, Tesla even offers the Ludicrous mode upgrade which takes the horsepower figure to 532bhp and allows the Model S to hit the tonne in just 2.8 seconds. In terms of recharging abilities, the facelifted Model S has an upgraded 48amp charger which Tesla says would bring down the time it takes to recharge this vehicle.
Tesla reveals upgraded Model S