Pune: UBER has become the Official Mobility Partner to Holify 2016 Pune to be held at The Corihanthas Club and Resorts, Pune on the 24th March, 2016.  UBER would be providing 1 free ride worth INR125 each to all the first-time users attending HOLIFY 2016 Pune at the Corihanthas Club on the 24th March, 2016. The event starts 10 AM Onwards. If you are first time UBER users then  all you needto do is to provide the UBER HOLIFY 2016  customized promocode "HOLIFY16" at the time of booking the cab service. This FREE ride will be applicable to ONLY first time users of UBER Service in Pune.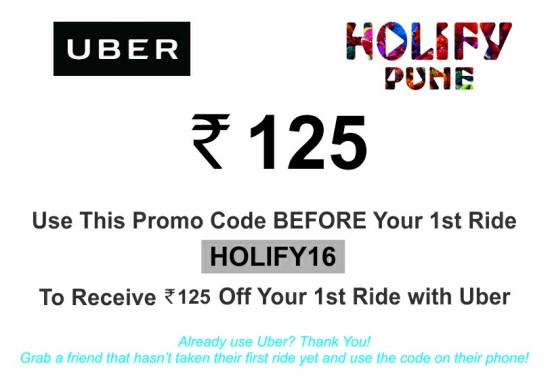 The HOLIFY festival will host a line-up of famous celebrity artists with live performance by Abhijeet Sawant, our very 1st Indian Idol, along with his band. Dance to the beat of Famous Star DJ Suketu followed by Maharashtra's famous Sanskruti Dhol Tasha – 60 Piece Band. DJ Ashtrix will be opening the HOLIFY Festival for your colorful experience.
Come be a part of this exhilarating experience, vibrant energy and mischievous behaviour at 'HOLIFY' Pune this year. Online tickets are on sale so be quick and grab your tickets now!!
You can book event tickets on www.bookmyshow.com
This Holi come to "HOLIFY" The happiest Holi celebrations in Pune. Come celebrate the coming of spring, the joy of friendship, happiness and love with us at the Five Star destination The Corinthians Resort and Club. Take the opportunity to cover yourself and your friends in colours and dance your heart out. Enjoy musical performances, delicious food, and an afternoon of messy, free fun!
UBER becomes Official Mobility Partner to HOLIFY 2016 Pune