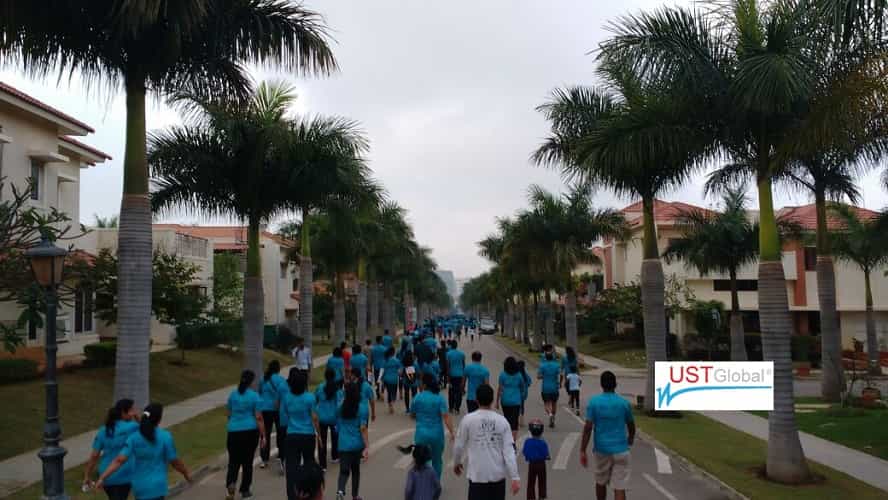 ~ Helped raise funds for the underprivileged in and around Bellandur area ~
Bangalore, India, December 3, 2017/Team Estrade//– UST Global, a leading digital technology services company, has partnered with Adarsh Palm Retreat (APR) Charitable Trust for its annual APR Marathon 2017. Held on December 3, the event has raised Rs. 50 lakh including kind which will be used for social causes in the area of education and women empowerment.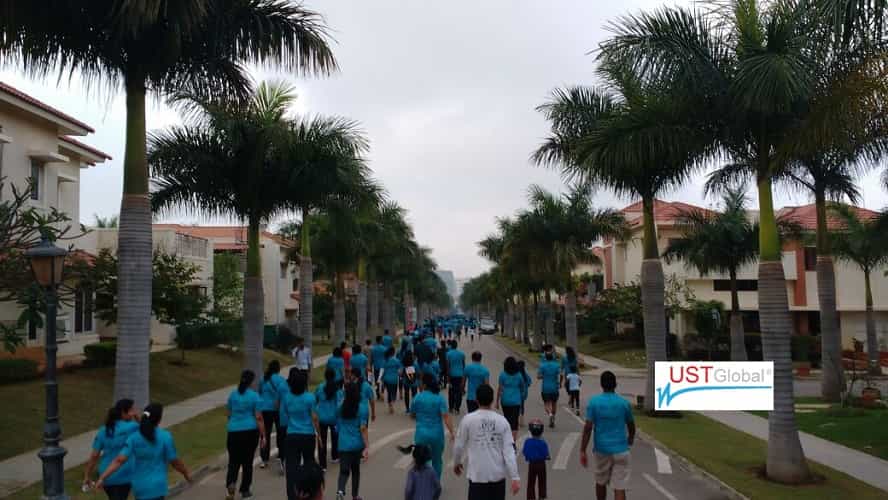 The 7th edition of its flagship fundraising event, The APR Annual Marathon 2017, witnessed participation from over 2000 residents of Adarsh Palm Retreat near Bellandur, and runners from all over Bangalore. The amount raised will be used to improve the quality of life of underprivileged people in the areas of women empowerment, health and education. With a vision of 'Transforming Lives', UST Global has been associated with APR Marathon since 2013.
Sudhansu Panigrahi, GM & Center Head, Bangalore, UST Global, said, "We are happy to extend our support to APR Charitable Trust 5th year in a row in their endeavor to improve the lives of underprivileged around Bellandur area in the city. At UST Global, we are committed to Transform Lives through various social and sustainable initiatives including health and education. Going beyond the 'cheque writing' approach, we encourage active involvement of our employees in contributing to various social initiatives. We thank all the UST Global employees who participated and made an impact towards this good cause."
Govind Thirumalai, Founding Trustee, APR Charitable Trust, added, "We truly believe that all of us as a community need to come together to make an impact on the lives of the underprivileged. Our sincere gratitude to UST Global for joining hands with us year after year and helping us achieve our dreams."
For more details about APR Marathon, please visit: http://aprmarathon.org/
About UST Global
UST Global® is a leading digital technology company that provides advanced computing and digital services to large private and public enterprises around the world. Driven by a larger purpose of Transforming Lives and the philosophy of "fewer clients, more attention", we bring in the entrepreneurial spirit that seeks the fastest path to value in today's digital economy. Our innovative technology services and pioneering social programs make us unique. UST Global is headquartered in Aliso Viejo, California and operates in 21 countries. Our clients include Fortune 500 companies in Banking and Financial Services, Healthcare, Insurance, Retail, High Technology, Manufacturing, Shipping, and Telecom. UST Global believes in building long-lasting, strategic business relationships through agile and client-centric global engagement models that combines local experts & resources with cost, scale, and quality advantages of global operations.
For more information, please visit: www.ust-global.com
UST Global associates with APR Annual Marathon 201
UST Global: APR Annual Marathon 20177