– Viacom18's CSR initiative aims at infrastructural enhancement and behaviour change communication to clean up Mumbai
– Ropes in Padma Shri and Ramon Magsaysay award winner Jockin Arputham to implement behaviour change communication
With more than half the country's population without access to a toilet, coupled with the peril of open defecation India is facing a sanitation crisis. While the Honourable Prime Minister Narendra Modi's Swachh Bharat Abhiyan has seen a number of corporates aligning with the cause, a majority of the work has focussed on construction of toilets in the rural India. But with each passing day, the realization dawns that building awareness about the need to use toilets is as, and perhaps more, important in realizing the dream of an open defecation free India.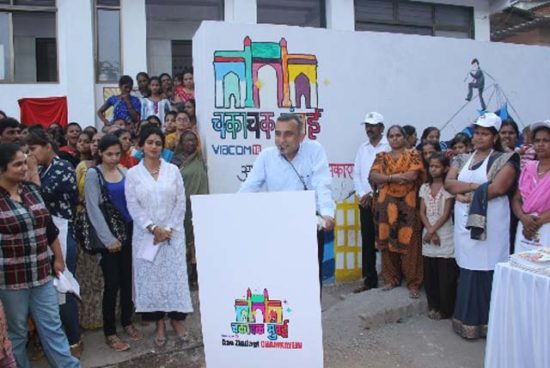 And it is in this spirit that, at a recently concluded cleanliness and sanitation awareness drive, Viacom18 flagged off its CSR behaviour change communication campaign to tackle the unhygienic sanitation condition in the slums of Mumbai. The company has adopted 4 slums (Subhash Nagar, Dsouza Chawl, Upadhyay Nagar and Salve Nagar) in the densely populated Andheri suburb of Mumbai. Under the umbrella of 'Chakachak Mumbai', Viacom18 has been working over the last year, to renovate and reconstruct over 200 toilets for the residents of these areas. Underlining the importance of instigating a change in people's mindset at the ground level, Viacom18 has roped in Padma Shri and Ramon Magsaysay award winner Jockin Arputham and under-privileged women's self-help collective Mahila Milan, to undertake a concerted behaviour change communication programme.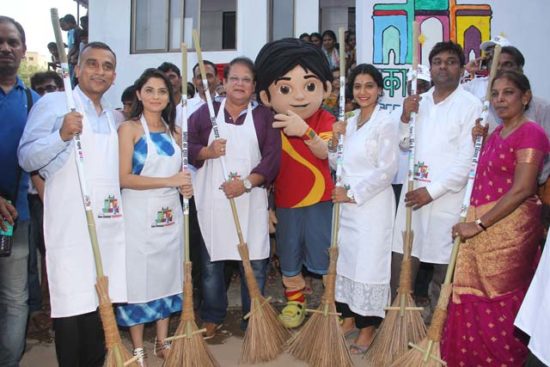 Mr. Sudhanshu Vats, Group CEO – Viacom18, flagged off the drive along with  Smt. Kesarben Patel, Corporator – Salve Nagar, K-East Ward, Andheri East and well-known Marathi film personalities Mahesh Kothare, Urmila Kanetkar Kothare and Sonalee Kulkarni.
"It is my firm belief that just as its people define the organization, the organization has a soul that is the collective of its people. It is with this belief that Viacom18 has been at the forefront of amplifying socially relevant issues, through our movies, tv series, support for social causes and various on ground activities. When we formalized our CSR journey, we decided to contribute towards realizing the challenging dream of a Swachh Bharat, both through enhancing infrastructure and building awareness," said Sudhanshu Vats, Group CEO, Viacom18. He further added, "We are India's favourite storytellers and we decided to leverage that primary strength to build the story of why good sanitary practices are important. Thus our entire behaviour change communication campaign focusses on how cleanliness leads to prosperity."
On the initiative Smt. Kesarben Patel, Corporator – Salve Nagar, K-East Ward, Andheri East, remarked, "The government is happy to encourage like-minded stakeholders for the benefit of each and every individual in the city and communities at large. These toilets are a step towards providing each and every citizen with access to clean sanitation. Now the onus is on the community to use these toilets judiciously, own them and safeguard it as an asset to the community. Just building these toilets, is not the objective of us or Viacom18, we would want the community to use them. We should eliminate Open Defecation from the community."
With the 360 degree approach of infrastructure development and behaviour change communication programme, Chakachak Mumbai looks set to bring about a noticeable improvement in the swachhta quotient of this maximum city.