– Over one million Visa payWave contactless cards issued in the market
– Visa payWave contactless cards accepted at more than 100,000 merchant locations
– Growing adoption of electronic payments and contactless technology contributing to India's cashless vision
Visa crosses a major milestone in India with over one million Visa payWave contactless cards issued in the market and acceptance at more than 100,000 merchant locations across the country. Visa is working with leading banks across the country to develop a robust ecosystem allowing consumers to make payments faster, more conveniently and securely.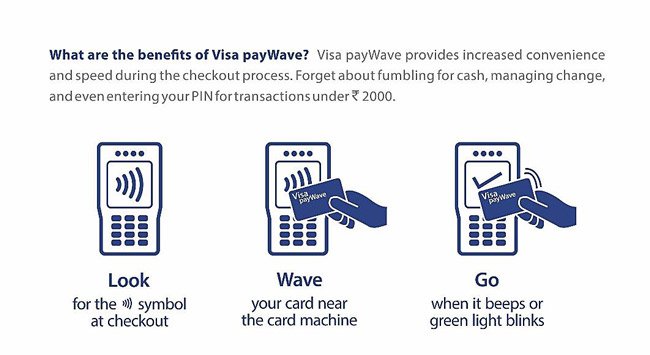 "Contactless is the future of payments in India. Since its launch, Visa payWave has gained strong momentum and wide merchant acceptance and we have now reached critical mass to serve as a building block for creating the payment system of the future. With Visa payWave technology we have set a foundation for expansion into other form factors like smartphones, wearable devices and stickers as also into new payment categories such as mass transit, tolls, parking etc." said Mr. TR Ramachandran, Visa Group Country Manager for India and South Asia.
For transactions upto INR 2,000, Visa payWave cardholders can use their contactless cards without having to enter the pin or sign transaction receipts. With eight banks currently issuing contactless cards, Indian consumers are now enjoying a new and faster way to pay at supermarkets, dining, entertainment venues and retailers such as Big Bazaar, Future Bazaar, Dominos, Vishal Mega Mart, etc.
Mr. Kishore Biyani, Founder and Group CEO, Future Group, said "Accepting Visa payWave has helped us reduce our check-out times, which means busy customers are spending shorter time in queues, enabling us to provide a more streamlined and enjoyable customer experience."
Visa payWave contactless will contribute to greater use of debit cards on POS terminals that were long used for cash withdrawals on ATMs and provide customers with a new payment solution by a simple wave of the card on a contactless reader.
Visa payWave contactless cards have an embedded antenna and microchip, enabling "contactless" communication with a reader at the checkout. The transaction is then processed through Visa's global, secure network, VisaNet, which processes all Visa transactions. Cardholders simply wave their Visa payWave card over a secure reader to pay.
Visa payWave Leads to Drive Contactless Payments in India