New Delhi, 4th May 2016: With the growing number of cabs and cab service providers in India, Zapplon Internet Private Limited, a newly formed start up operation has launched a one stop cab solution for all the mobility needs of the customers.. This cab service can be availed by commuters in over 100+ cities by simply downloading the Zapplon application from any Android mobile phones. It helps the end user the fastest and easiest solution to book the cheapest and nearest available cab from any service provider.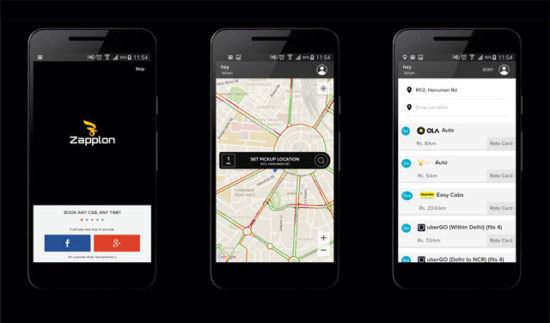 Zapplon app sorts out the availability and estimated time of arrival of all cabs across different cab aggregators in real time. This enables the commuters to book the most suitable cab across all cab services and aggregators at the most competitive rates by providing a one-stop solution. It takes away the app fatigue by shortlisting the nearest available cab options by displaying the information from several cab services in one simple screen. This allows the users to choose and book the most suitable cab without any hassles.
Being a start up operation, Zapplon offers points as cashback rewards in the form of digital currency called Zapps for their each ride and also for referrals. The points thus earned can be redeemed for any item within the points value limit of vast online shopping list like Flipkart , Amazon , Jabong etc. The company intends to introduce many more innovative marketing schemes going forward to encourage the use of Zapplon app.
In a short span of just over 1 month, Zapplon has aggregated all the major cab services providers like Ola , Uber , Easy & Mega cabs and also Jugnoo for providing three wheeler services. Zapplon so far had over 7500 downloads with a 100% growth in the short span with 200 new users joining the group organically daily.
Zapplon, launched by a young and motivated team of professionals has started generating revenues from day one. Like any start-up, it was tough for Zapplon too to generate the seed money to begin the operation. But the team has relentlessly worked hard and started on a positive note. It has now put in place an aggressive expansion plan and intend to diversify its activities going forward by providing unmatched services in various fields. .
The company's plan is to utilise the seed money and the funding mainly on product enhancement and user acquisition. On the mobility solution front, it is in the process of integrating the recently launched bike taxi services. It also aims to add self drive and inter- city services in the near future. Zapplon is striving to integrate multiple application programme interface(API's) and getting them to work in tandem while keeping the size of the app as low as possible.