State Bank of India (SBI) has today launched a recruitment brand 'Grow Everyday' emphasizing the variety of growth opportunities that SBI offers. The initiative was launched by Smt. Arundhati Bhattacharya, Chairman, SBI in the presence of Managing Directors and Deputy Managing Directors of the bank. The purpose of this initiative is to raise awareness among the bright young minds and encourage them to apply for building a promising career with the bank. As first step towards this goal, bank has launched a brand new career website which captures its value proposition comprehensively. In Smt. Arundhati Bhattacharya's words, "Today we are launching a revamped website, with the hope that everyone will scan through this and spread the word that here is an organization which is the only Fortune 500 Bank in India which will give you diverse opportunities to work in teams and to lead"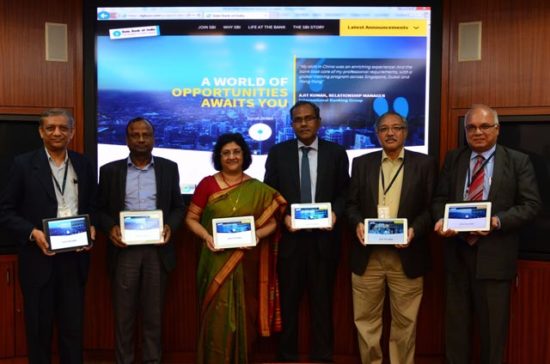 SBI's new recruitment brand is built on three key pillars of its unique value proposition:
1) Attractive career growth opportunities through merit based promotions and clearly defined career paths.
2) Unparalleled exposure through diversity of roles and geographies in India as well as overseas
3) Personal and professional development through the bank's state-of-the-art training infrastructure & tie-ups with reputed global institutes.
These initiatives come in the background of strong HR initiatives which the bank has already implemented. Talent management and development processes are in place to groom future leaders through customized training programs in premier institutes viz. Harvard, ISB, IIMs, Stanford among others. New employee career paths have been introduced to help the officers build expertise in their area of choice. Meritocracy is further promoted by introducing one of the largest state-of-the-art performance management system in the world.
The bank has also a structured on-boarding program to ensure new recruits integrate well into the organization. The bank recently launched its Facebook initiative to enhance peer-to-peer interaction amongst more than 1500 probationary officers of the bank.
With these initiatives in place, SBI will be competing this year for top graduate talent across the country through its exciting new value proposition targeted at graduates from top colleges. Bank is opening its applications on 4th May for probationary officers. Interested candidates can log on to www.sbi.co.in/careers to learn more about the careers at SBI and apply.
SBI Revamps its Employer Brand on the Back of New State-of-the-Art HR Practices