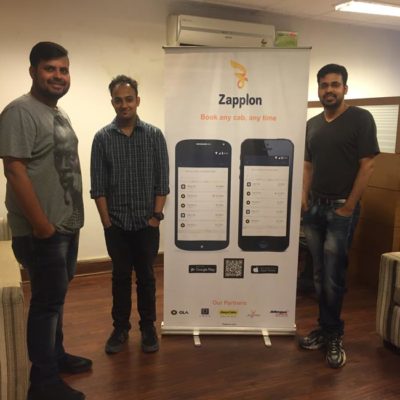 Enjoy online cab booking of radio taxis, including city cabs, outstation cabs and airport taxis; Compare and book on Zapplon cab app. Zapplon, a team of motivated and committed bunch of engineers and MBAs who enjoy creating services that benefit and delight our users.
Kindly brief us about yourself? Your story in terms of all the founders coming together, their backgrounders and a short note about the difficult times to the turnaround story?
Team Zapplon: In one sentence: Zapplon aggregates the vast multitude of cab services to help user's book cabs at the best price, without flitting from one app to the other. A trio that brought together the best of technology, sales and marketing to create this business founded it.
Ishan Relan is a self starter and entrepreneur; as a digital marketer he has dabbled in various industries and worked across kaleidoscopic domains. He defines 'thinking out of the box', effective leadership, analytical abilities and strong interpersonal skills. He previously worked at Knight Frank as an assistant manager. His string of achievements began early on in his college days. These early achievements cemented his love for innovation and marketing and encouraged him to unfold new strategies to drive user acquisition and engagement for his business.
Backing up Ishan, was Shiwang Suraj, an MBA professional. He was working as an International real estate consultant in Dubai. He comes from a strong sales and marketing background and his work limns his skill. This man sold property worth INR 1 billion within the short span of 42 weeks, while in property sales.
Apoorv, an NSIT Delhi graduate, completes the group. He is the technological backbone of Zapplon. A seasoned tech leader with visionary IT experience, Apoorv worked in Zomato previously, before taking on the role of technology Head at Zapplon.
As to how they came together and became the three musketeers of Zapplon is a saga all in itself. Shiwang was working with the largest real estate developer in Dubai. He and Ishan used to work together in Knight Frank, when Shiwang left for Dubai. Over one phone conversation, the idea just hit these shining minds. They wanted to make an impact on the mobility scenario of India. In came Apoorv, who was very well known to Ishan through mutual family connections. Thus, a team was formed that was ready to leave everything behind and put their hearts and souls into giving life to their idea.
---
How you came to found Zapplon? What services are provided by Zapplon?
Team Zapplon: Quitting high paying jobs and leaving behind the luxuries, we went through trying times in the initial days. Market research and analysis was the key activity. Ishan and Shiwang researched and tied up with cab service providers and existing segregators to understand the full extent and feasibility of their project. In the meanwhile, Apoorv spent hours programming the complete solution and weaving in the ideas of the trio. Between long night outs for plan discussion and product disputes, we just managed to stay afloat with their savings. Yet, we moved ahead to give wings to our startup idea, our magic.
We rolled out our Beta services and invited friends to try out our new app. Word spread fast and we had to shift our servers to cater high loads within the very first month. Hitting an impressive milestone of nearly 5000 users in the very first month, it didn't take us long to reach our target of 3000 users every month. Now, we are aiming for way higher numbers. It opened room to hire new interns, brought in funding and allowed us to spend more on research, product and technology.
---
Who are the investors in the parent company and approx seed funding received?
Team Zapplon: The idea of starting Zapplon cropped up when we used to hit the roads at midnight. Cabs are at their peak prices and coupled with this surge in prices, is the difficulty to arrange cabs. It is a constant headache to explain your address to the drivers. We noticed that different apps provided the same services for a full range of prices going from INR 7/Km to INR 23/km.
We realized that users keep too many apps for Intra city travel in their phones. Switching from app to app, squandered time and users often ended up using the more expensive services. We knew that a better product and technology was required to provide a solution by combining all the services under one platform.
Zapplon services include:
• Zapplon is integrated with major cab service aggregators like Uber, Ola cabs, EasyCabs and Taxi for sure. As a result, you can directly choose cabs from among any of them.
• Compare prices and select the one that works best for you.
• You can book intra city, intercity or self drive cabs within the app itself. You no longer need to switch apps or go through third party applications.
• You can ride as you wish in comfort and well within your budget. Now you can earn cash back for each ride.
---
Can you elucidate the concept – one stop solution? What is the USP of Zapplon
Team Zapplon: In 2016, Zapplon launched a one stop cab solution catering to every mobility need of the customers. It was created to service the need for a smarter cab booking process. Zapplon is a super aggregator of taxis in India. It cuts down the extra skirmishes of juggling between apps to find the best and nearest cabs. It allows users to compare costs incurred, estimated time of arrival etc. from several cab services on a single screen. Thus, booking cabs has been simplified to the basics.
Also, operating in over 100 cities, Zapplon provides vehicles in almost all the major cities of India. Users can be assured of finding cabs in their areas and cities.
---
"Zapplon launched a one stop cab solution catering to every mobility need of the customers"
---
What is your Marketing/Promotional approach?
Team Zapplon: After spending days and nights researching markets and optimizing our product services, we are now using the following marketing and promotional strategies:
• App Store optimization (APO). This is very similar to SEO optimization for search engines and we aim to increase the overall ranking of our app. By increasing visibility of our product, we aim to achieve a higher traction of customers. We have reduced the overall application size and continue integration of various APIs.
• Below the Line (BTL) marketing. Though unconventional we have included it in our marketing strategies. We even plan to launch the product through TV advertising and telemarketing. So far we are using sms and emails.
• Social Affiliate. Affiliating our product with the social media and crafting pages that speaks for our services.
• Blogging and coblogging. We have been extensively promoting our product at www.zapplon.com, our official blog. It contains all the updates of our recent service additions. It is also the platform through which we operate.
• Social Media like Facebook and twitter. We don't plan to leave any stone unturned when it comes to reaching out with our product and services. This allows us to learn the customer's experience and tailor our services to serve the customer better.
---
Geographically speaking which key cities are you targeting and your short terms goals?
Team Zapplon: Zapplon provides its services in over 100 major cities of India. As we grow, we plan to extend the services further to reach out and cover every nook and corner of the country.
Zapplon plans on utilizing funds for product enhancement and user acquisition. We mean to introduce features like Common Wallet, Handsfree Cab Booking, Women's Security and Offline cab booking. We also plan to launch self drive and intercity on Android, Web and iOS, to keep the development moving on the same tracks. We are also in the process of integrating bike taxi services with Zapplon.
---
How you put together your ecommerce budgets with their corresponding application programme interface (API's)?
Team Zapplon: Zapplon has a straightforward business model. It earns revenue for every transaction that is facilitated through its platform. Zapplon has close to 8500 downloads on Google Play Store to date with more than 30% month on month growth and 150 new users joining organically per day. With the revenue generation revenues from day one and a healthy unit economics, Zapplon has a significant repeat customer base, which is evidence in itself of its value proposition. In April, Zapplon raised undisclosed amount of seed funding from HNI .
Zapplon provides cashback as well, in the form of its own digital currency called Zapps.
Customers can also earn Zapps by referring Zapplon to friends and other users. These can then be redeemed on ecommerce vast shopping online catalogues. Zapplon is striving to integrate multiple APIs and getting them to work in tandem while keeping the size of the app as low as possible.
---
What are the current common risks for ecommerce and how do you mitigate them?
Team Zapplon: We are expecting to face fierce competition in the coming times because of low entry barrier.
Yet, we remain unfazed by the competition. At Zapplon, we are constantly driving innovation, achieving better results and trying to go that extra mile where others quit. With state of art technology, Zapplon has achieved Android application sizes as less as 3 MB. We aim to create products that are easier to use by our customers and don't require shifting between various applications or going through third party websites. We also aim to build a better and more innovative product that is ready to combat any competition thrown in its face.