Electric cars are no longer a thing of fantasy with the segment gaining popularity in global markets. In India though, electric vehicles (EV) account for a negligible share of car sales. However, Mahindra has been at the forefront of e-wheelers in India and after years of going solo, the e2o will finally be joined by another electric car, the e-Verito, and the Indian carmaker is launching the sedan today.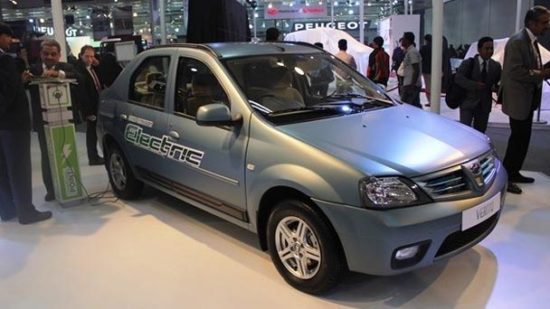 The e-Verito is an exclusive launch, it is a pure electric car that runs on a potent three-phase 72V electric engine that generates fierce 91Nm and 41PS energies. It can move on a top-speed rhythm of 85km/h and after complete charge it can cover a distance of 100km. The car runs on powerful lithium-ion battery and it takes eight hours to acquire a complete charge, Mahindra has however engineered a quick charge option on the D6 variant, here the overall charge time is reduced to one and a half hours. The other two variants on offer is D4 and D2.
An important point to remember about the e-Verito is it is a 100% zero emission car, and it is the perfect eco-friendly car. It is going to be amazing indeed to get to drive the classy looking e-Verito, a 100% zero emission model very soon. Sitting inside the car is going to be a luxurious experience, and for those who are super-excited about this upcoming vehicle, let us explore some more interesting characteristics.
Exterior:
The Verito is a sophisticated looking sedan with a well-defined exterior architecture, when you sight the e-Verito, you will be reminded of the Verito. There are barely any differences between the two vehicles, there are some updates on the e-Verito such as a newly designed radiator grille with classy looking and pristine fog lights and head lights. On the side of the high-end variant there are neatly sculpted rear view mirror with body colored bumpers. A major design modification to take note of is the Verito electric will have boxy exteriors bordered by an edge design, the regular Verito car has a sweeping roofline.
Interior:
The interior of Verito electric is going to look grander and newer than the regular Verito sedan, the quality of material is more refined. It is going to look more up-market than before with world class music system with Aux-in, Bluetooth and USB connectivity, and also watch out for the powerful air-con. There is going to be ample space inside to just sit comfortably and relax.
The impeccably styled and high-tech Mahindra e-Verito is going to launch very soon, and it is a revolutionary new launch. The exterior architecture is magnificent and the interior décor and quality of material is marvelous and most importantly the incredibly powerful three-phase 72V electric engine that moves on lithium ion battery and it is a 100% zero emission vehicle.
For those who are keen on buying the Verito electric, it is a fantastic product, soon you will be driving an ultra-space 100% zero emission vehicle, and you will be considered to be a responsible citizen who is aware about the need to safe-guard the environment. When you own the car, you can boast of owning a product with first-rate exterior styling, unbelievably rich interior and innovative 100% zero emission engine technology, all these features for an initial price of Rs 8 lakhs.
Mahindra launches fully Electric Version of Verito