Tokyo: Japanese automaker Suzuki Motor Corp today said its wholly owned car plant in Gujarat, where a total investment of Rs 18,500 crore has been envisaged, will begin operations from next year.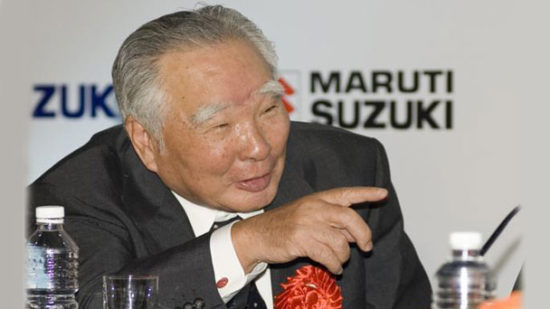 The Gujarat facility is also Suzuki Motor's first wholly owned car plant in India and being set up bypassing its Indian unit. This plant will supply vehicles and components exclusively to Maruti Suzuki India Ltd. India is its biggest market.
"As planned, operations will start in 2017… Our plan is going accordingly," Suzuki Motor Corp Chairman Osamu Suzuki told reporters after meeting Finance Minister Arun Jaitley here.
Suzuki Motor owns 56 per cent of Maruti Suzuki India – the country's biggest automaker controlling nearly half of the market.
It expects the bulk of its growth to come from India, which is projected to overtake Japan and Germany by 2020 to become the third-biggest market in the world after China and the US.
In the first phase, the Gujarat factory will have a capacity to make 2,50,000 vehicles annually, and will start operations in 2017.
Suzuki's car production in India will reach 2 million units by 2022 from the 1.4 million at present.
Asked about the performance of the India unit, 86-year- old Suzuki said, "When it comes to Maruti Suzuki, the performance is going up very well. I am sure Maruti Suzuki has been loved by the Indian people. So I am very much satisfied."
Suzuki Motor Corp, Japan's second-biggest minicar maker, is shipping India-built cars to Japan for the first time.
Baleno hatchback, made by its subsidiary Maruti Suzuki India Ltd, went on sale in Japan in March.
At that time, Chairman Osamu Suzuki had said the company was looking to "dismiss the prejudice" against India-made cars with Baleno, which is equipped with standard safety features including a radar system that mitigates collisions.
Asked about the ban on registration of large diesel vehicles in the Indian capital, Suzuki said, "Diesel or gasoline (petrol), rather than driving the car into these categories, you really have to think of how to reduce the overall exhaust gas from automobile. That's what we are thinking at the manufacturers side."
The ban on sale of large diesel cars and sport utility vehicles with engines of two litres or more was first imposed in Delhi-NCR in December and was recently extended to Kerala.
The one in Kerala, however, has been temporarily stayed by the state high court.
Source: PTI
Suzuki's Gujarat plant will be operational in 2017